VOD vs. Live Streaming: What's the Difference?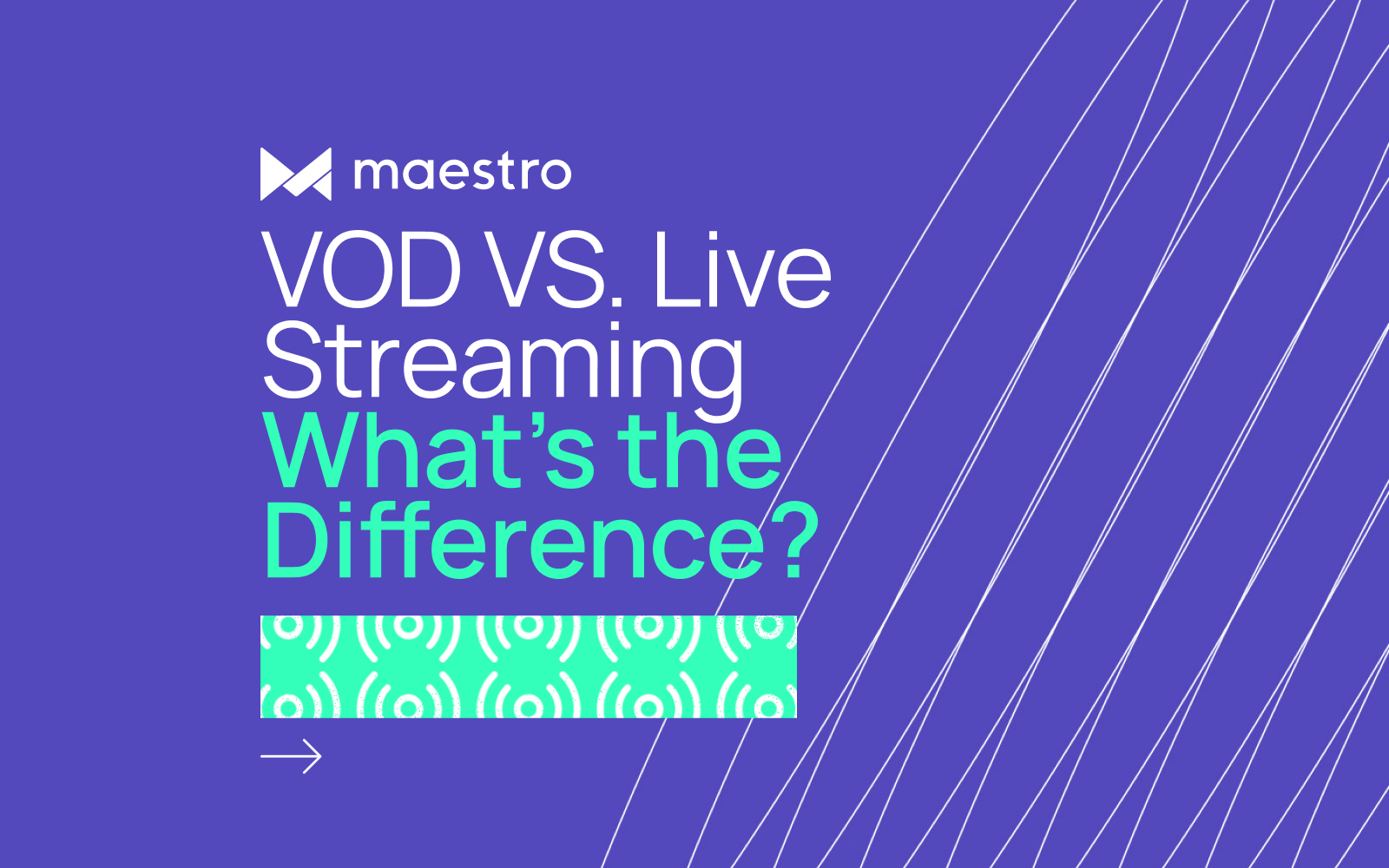 Online video streaming is on the rise, so it's no surprise that businesses and creators are jumping on board. However, some brands aren't sure if they're better off live streaming or creating VOD content.
In this article, we will compare VOD vs. live streaming. Will discuss the differences between the two and review their unique use cases. With this information, you'll be able to determine which style of video streaming makes the most sense for your goals and needs.
Table of Contents
What is Video Streaming?
Streaming is the process of transferring a variety of types of media over the internet. This media can include video, audio, and other data. Video streaming is the transfer of video files over the internet from the host to the viewer.
Video streaming is becoming increasingly popular for a few reasons. For starters, it makes it easy to connect with your audience no matter where they're located. Online video streaming is also easier to scale since it is cost-effective. There are lower start-up costs, and scaling just involves upgrading your streaming setup and hosting.
Another perk is that it doesn't have the constraints of traditional television. Creators don't have to jump through hoops or depend on the handful of media giants that determine who gets airtime. Although some online video is shared with video streaming networks, most independent creators can stream as they please by using a free or white-label streaming platform.
There are two main types of video streaming: live and on-demand. Here's a breakdown of how each of these works.
Live Video Streaming
Live streaming is a media distribution method that delivers content to viewers as it is filmed.
Thanks to modern streaming technology, just about anybody can host a live stream. Creators can host basic live streams from their smartphones, but it's also possible to host a professional-grade stream for relatively cheap.
Live streams are commonly monetized with ticketing, ads, sponsorships, tipping, and live shopping. Some creators charge a subscription fee for access to their streams, as well.
Twitch, Facebook Live, and Instagram Live use this streaming method. White-label live streaming is also commonly used by businesses, brands, and organizations to host virtual events.
On-Demand Video Streaming
On-demand video streaming, which is also known as "video on demand (VOD)," is a media distribution method that allows users to choose content to watch at will.
Typically, VOD content is offered as a collection or organized in a library of sorts, so users can play their content of choice with the click of a button.
VOD content can be monetized through most of the same means as live streaming, but subscription video on demand (SVOD) monetization is particularly popular. Companies like Netflix and Hulu use the SVOD model
Youtube is another prime example of a site with video on demand streaming, but advertising is the main revenue source for that platform.
What's the Difference Between Live Streaming and VOD?
One key difference between live streaming and VOD is that live streams are distributed in real-time, whereas VOD content is accessible on-demand.
Since live streaming records and delivers content in real-time, the technical setup is a bit more complex, and the editing opportunities are nearly non-existent. Since video on demand content is pre-recorded, there is a lot more flexibility for production and editing.
There is also quite a bit more pressure for live streaming. After all, you can record a second take when you're producing VOD content, but live streaming does not offer that luxury.
Besides the main technical difference, video on demand and live streaming have different purposes and use cases.
Which is Better: Live Streaming or VOD?
When it comes to live streaming and VOD, neither is inherently better or worse. However, one or the other is typically better for specific use cases.
Let's review the different use cases for each so you can get a better understanding of which is better for your specific needs.
Live Streaming Use Cases
Since live streaming happens in real-time, it is great for situations that require live audience engagement. It's also great for creating life-like experiences for people who are joining the event remotely.
Live streaming also creates a sense of urgency that can help keep users engaged. You can't usually pause or rewind a live stream, so users are incentivized to stay tuned in.
Some of the top live streaming use cases include:
Live streaming can be used to make just about an event virtual or hybrid.
VOD Use Cases
VOD is better for situations that call for evergreen content that is accessible for a longer period of time. On-demand streaming can be used to host replays of all of the live streaming use cases we mentioned above.
Some additional VOD use cases include:
Entertainment (films and series)
Corporate training series
Online courses
VOD is great for creating archives or sharing collections of content.
Start Streaming on Maestro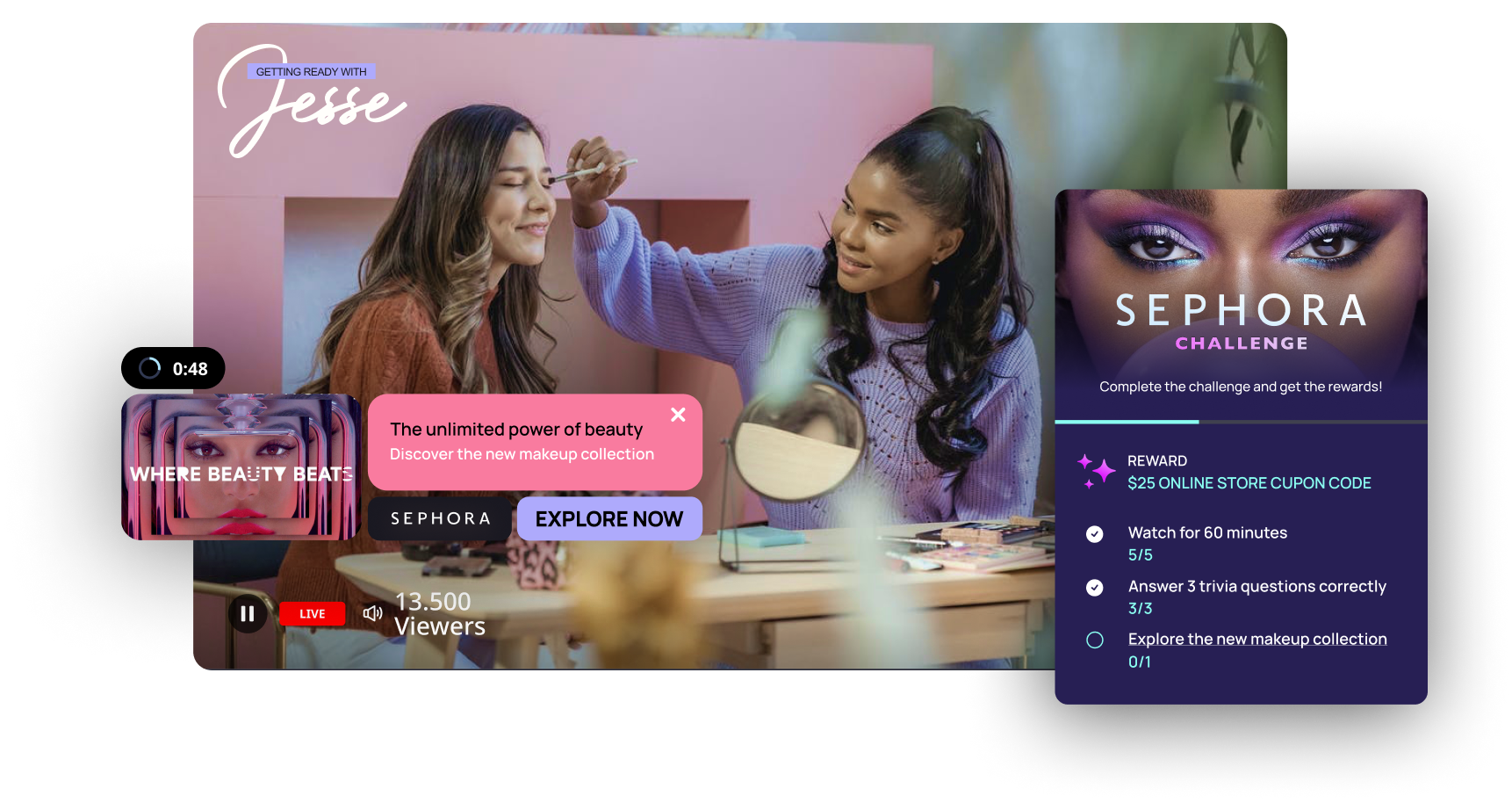 Maestro is a white-label video streaming platform that supports both live and on-demand video streaming. Our mission is to help businesses and creators make more money with video and create more interactive streams.
Users can customize their video players and streaming sites to create on-brand user experiences. Panels and overlays can be added to improve interactivity and engagement. These tools make it possible to create and monetize premium streaming experiences for your core audience.
Sign up to Maestro to start streaming in no time at all.
Join our Discord server for more helpful tips and tricks!
Share