What is White-Label Video Streaming?
White-label streaming is very important for businesses and creators who want to create branded video experiences. This allows streamers to enhance their brand awareness and connect with their loyal online community.
In this post, we will discuss what white-label video streaming is and when it should be used by brands and creators. We'll discuss the benefits of white-label streaming before we discuss how to choose the best white-label streaming platform.
Table of Contents
What is White-Label Video Streaming?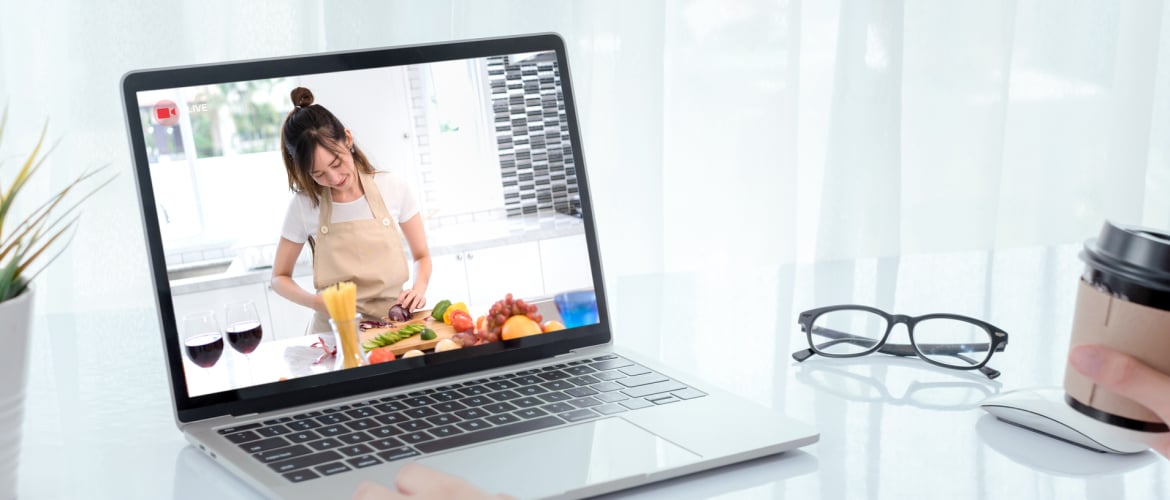 White-label video streaming is a style of streaming that removes all branding from the host and other third-party brands. With this style of streaming, video creators can publish video content where their branding is on full display.
White-label streaming is a more professional alternative to streaming on free video platforms, like YouTube and Twitch, where the host's branding is all over the video player and landing page. These free video platforms also typically have suggested videos and ads from other brands all over the page, which can be distracting.
By opting for a white-label streaming platform, you can eliminate the distractions from other brands and creators and keep your content in the spotlight. This is great for building brand awareness and leaving a more professional impression.
White-Label Video Use Cases
White-label video streaming has a wide variety of use cases. Basically, it can be used in any situation where the streamer wants their brand to be the only one on display.
Here are a few specific examples of white-label streaming use cases:
Premium streaming experiences
Video subscription platforms (like Netflix or Hulu)
Concerts and music festivals
Sporting events
Corporate videos (training, marketing, sales)
Of course, some of these things can also be hosted on public platforms that reflect the host's branding, but using white-label streaming helps to elevate the overall streaming experience.
Types of White-Label Streaming Solutions
There are a couple of types of white-label streaming solutions. Some simply offer a white-label video player that can be embedded wherever, and others offer an entire white-label streaming experience.
A solution that offers an embeddable white-label video player simply allows you to create a video player without any branding that can be added to the branded sites, apps, and other distribution channels that you host separately.
White-label video players are valuable for larger streaming operations that have dedicated teams for managing their various digital assets and simply need a reliable video player to plug and play.
Brands and creators that want all of their streaming tools in one place can opt for a white-label video hosting platform that is designed to customize the entire streaming experience. Typically, this sort of solution makes it possible to customize more than just the video player. The hosting includes the site and pages where your video player lives.
This both eliminates third-party branding and customizes all aspects of the viewer-facing experience. Not only can you input your brand's logo, but you can customize the color scheme, fonts, and other branded elements.
What is the Best White-Label Streaming Platform?
Since there are so many different use cases for white-label streaming and each creator has unique needs, there is not a single "best" white-label streaming platform. The key is to find one that works best for your streaming needs.
Here are a few things to consider when looking for the best white-label streaming platform for your streaming setup.
Required Features
One of the first steps to determining whether or not a white-label video platform is right for you is assessing its feature offering. Your "must-have" feature list will depend largely on what you want to achieve with online video streaming.
Of course, white-label streaming is an important feature to look for. Some other key streaming features to look for include:
Video monetization

(PPV, subscriptions, ads/sponsorships,

live commerce

)
Community tools (viewer database, viewer organization)
Video analytics (viewer reports, revenue reports, Google Analytics integrations)
Engagement tools (live chat, clickable panels)
Secure streaming (password-protection, 2FA, DRM)
Map out your goals to figure out which features the most important for you.
Frequency ofUse
How much or how often you plan to use white-label streaming is also an important consideration. Are you planning to host a one-time event, or are you looking to stream on a regular basis?
It is important to choose a white-label streaming hosting platform that has plans that support your intended use. For example, you don't want to buy a long-term plan if you're doing a one-time event. On the flip side, opting for a platform that offers discounts for annual subscriptions is a good idea if you plan to steam regularly.
Explore the options to see what makes the most sense for your intended use.
Usage/Bandwidth Requirements
The amount of bandwidth you'll need to reach your streaming goals is also a major aspect. Basically, the amount of bandwidth you use depends on the length of your streams, the quality of your streams, and the number of viewers you're streaming to.
Some platforms package their bandwidth in terms of usage. For example, their plans could come with capped viewer hours or a specific number of concurrent viewers.
Many platforms have bandwidth or usage calculators. Take advantage of these tools as you research and compare options.
Budget
Last but not least, it is important to consider your budget. White-label streaming plans range from under $100/month to over $1000/month. Even a single platform could have several plans within that price range.
Keep in mind that some video hosting platforms only offer white-label streaming on their more expensive plans. As you make your price comparison, compare based on the plans that include the features that you need, not just the cheapest plan available.
Top White-Label Streaming Platforms
Now that you have a better idea of how to choose the best white-label video streaming platform for your needs, you may be wondering where to start for your platform comparison.
Here are a few of the most popular video hosting platforms for white-label streaming:
Maestro: Best suited for professional creators
Brightcove: Best suited for enterprise streaming
Muvi: Best for hosting TV-grade video streams
Livestream: Best suited for creating OTT video subscription services (like Netflix)
JW Player: Suitable for streamers of every type with low-cost basic plans and high-ticket customizable plans
Kaltura: Best suited for large organizations, specifically educational institutions
Uscreen: Best for membership-based streaming
These platforms range from simple creator-focused platforms to more advanced tools for enterprise broadcasters.
White-Label Streaming on Maestro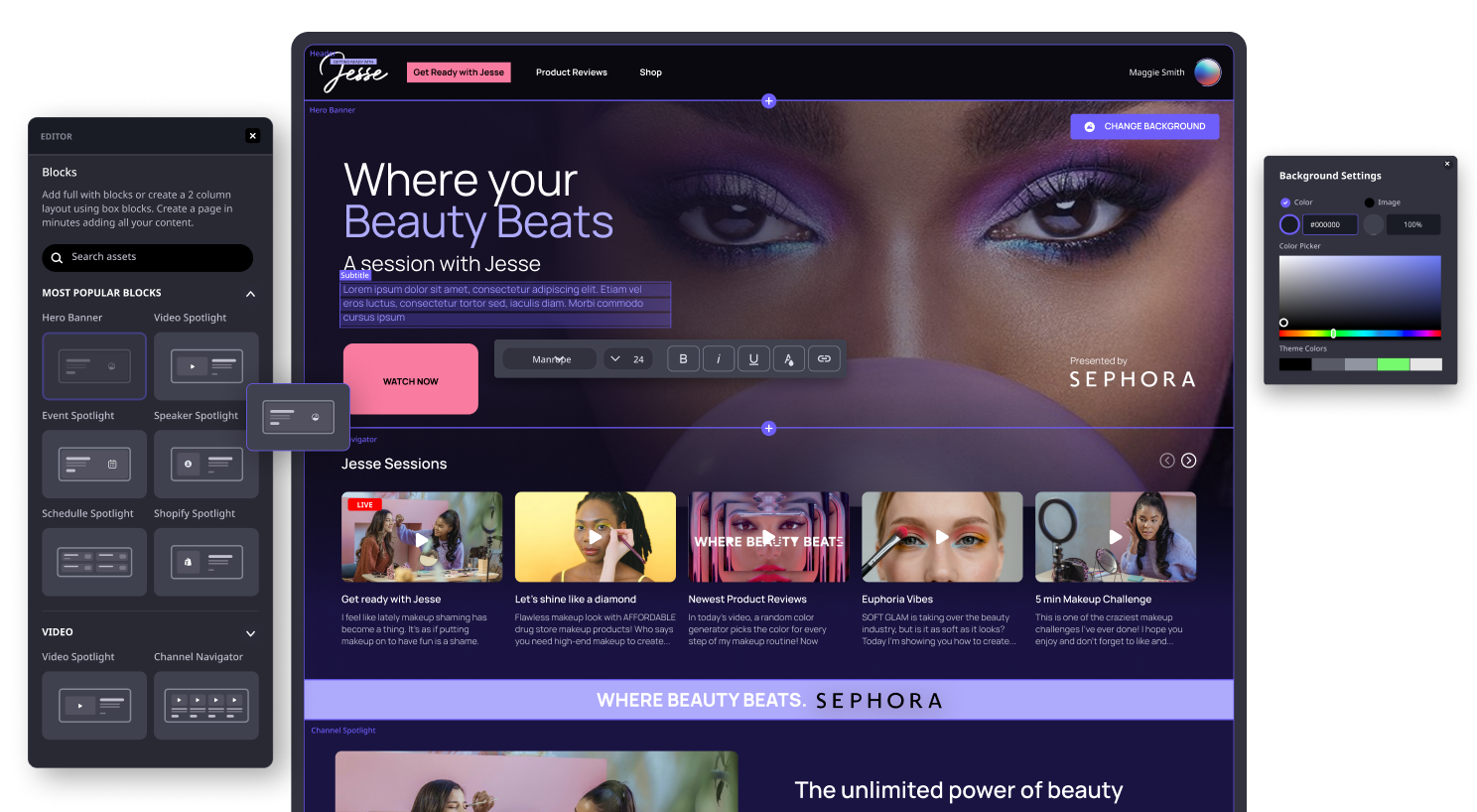 Here at Maestro, white-label video streaming is our thing. Our platform is designed to put your brand in the spotlight through easy-to-make customizations on your video player and streaming site.
Maestro offers more than just white-label streaming. In fact, the platform is equipped with all of the steaming tools that you need, including video monetization, tools for advanced user engagement, a community dashboard, insightful analytics, and more.
With Maestro, your brand is always the one in the spotlight. Sign up today to tap into white-label streaming in no time at all.
Share