Live Commerce: A Guide to Making Money with Live Stream Shopping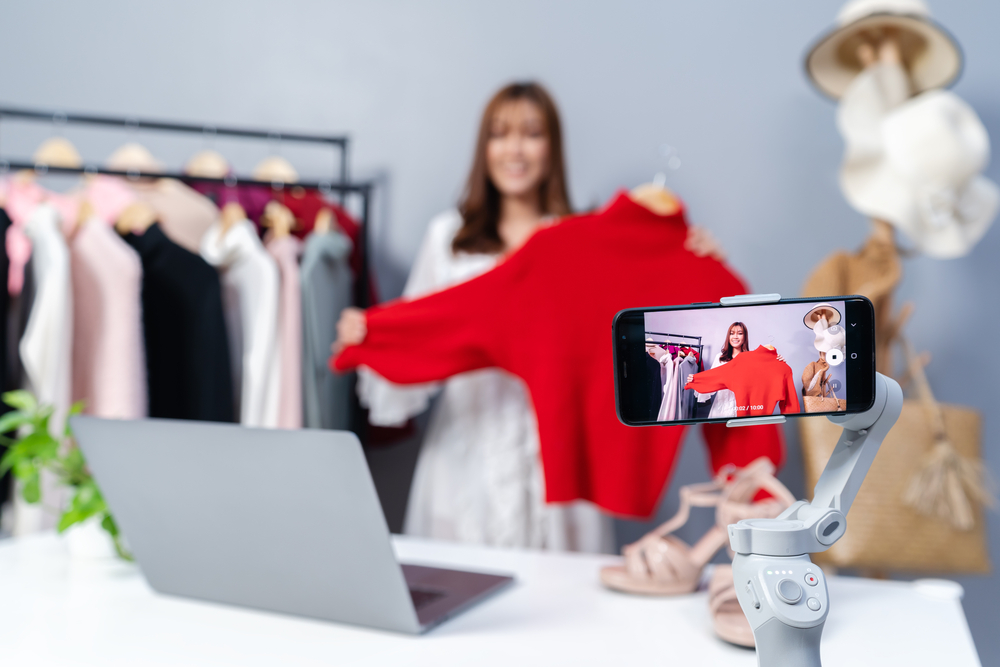 Video monetization is more flexible than ever. With the support of modern streaming technology, creators are able to get creative to generate revenue in a way that makes the most sense for their audience and brand.
Live commerce is a creative video monetization approach that is on the rise.
In this post, we will discuss the basics of live commerce. We'll start by defining what live commerce is before we get into three practical use cases of live stream shipping for creators. From there, we will discuss how to implement live shopping in your streaming setup and share a few live stream shopping examples.
Table of Contents
What is Live Commerce?
Live commerce is a video monetization method that involves selling a product or service in a live stream. This monetization technique is also commonly known as "live stream shopping" or "live selling."
With this video monetization method, viewers can purchase products that are being discussed in the live stream by clicking a button on or around the video player.
Each live commerce streaming setup is a little bit different. Some setups redirect users to a separate storefront when they click the button, and others allow users to shop without leaving the page that houses the video.
Live stream selling can be used to sell physical products, digital products, services, and even NFTs.
Live Commerce: Where It's At and Where It's Going
Although live selling has been around for several years, it is still growing in popularity and the world. In some markets, live commerce is only just emerging.
The initial surge in online live stream selling took place in China after Alibaba Group's e-commerce site, Taobao, launched a live sales initiative in 2016. Alibaba Group has continued to use live commerce to boost sales on its various marketplaces.
Between 2017 and 2020, the revenue generated from live commerce in China jumped from $3 billion to $171 billion. This figure is expected to reach a whopping $423 billion in 2021.
While the growth of live commerce in China is quite impressive, it is still quite new in western markets. However, with sites like Amazon, YouTube, and Facebook getting on board, it is only a matter of time until that sort of growth is seen in other regions.
3 Ways to Use Live Stream Shopping
There are a few ways that you can use live shopping to generate revenue. You could sell your own products and services, or you could promote your sponsors' products.
Here's a closer look at how each of these use cases looks in action.
1. Sell Your Products
One of the top ways to use live stream shopping is to sell your own products. Use live streams to connect with your target audience, and promote the things that you've created.
There are a few ways to sell your products in-stream. You could host live streams that focus specifically on your products, such as product demos or product launches. This takes more of a hard-sell approach.
Another approach is to host live streams that are more focused on building brand awareness and deepening the connection with your audience. You can plug your products a little more casually with more of a soft-sell approach.
2. Sell Your Services
Another option is to sell your services in live streams. This use case might be a bit more applicable for those creators who operate a service-based business, such as a hairstylist, wedding planner, or astrologer.
If you sell a service, one approach would be to use live selling to allow potential customers to book consultations or reserve a spot on your calendar.
One way to leverage live commerce for selling services would be to do a live demo of your services. A makeup artist, for example, could live stream the process of doing makeup on a model or another client. A dog trainer could live stream a session with a puppy.
The beauty of live streaming is that you can get as creative as you'd like to showcase what you have to offer.
3. Promote Your Sponsors' Products
Another interesting way to use live commerce in your streams is promoting products and services on behalf of your sponsors. This creates a great revenue stream for influencers, product reviewers, and other creators that work closely with sponsors.
The same selling techniques that we covered for selling your own products are applicable here.
Live Stream Shopping Examples
Live commerce is still growing and evolving in the online streaming space, but a few notable companies use this strategy to generate revenue.
Let's take a moment to review three of the industry's most popular live stream shopping examples.
QVC
QVC is one of the OGs of live shopping. This company was launched in the '80s, but its business model was ahead of its time. QVC bought items in bulk to sell on television, and Presenters shared products in a way that can only be described as 20th-century influencer-esq.
Viewers could call in to order, and the items would be delivered to their homes by mail. QVC's business model almost feels like the predecessor to many modern e-commerce business models.
Online live selling has simplified this process so people can watch the QVC streams on the internet and place orders for items that they like in just a few clicks. As one would expect, currently, the majority of QVC's sales are made online rather than by phone.
It's worth noting that QVC still maintains a lot of the structure of the original TV program. Because of this, the presenters and participants are limited to those who have deals within the QVC network.
Amazon Live
Amazon Live launched in early 2019 to allow brands to sell their products and influencers to promote their favorite items in-stream. This tool from Amazon works with the Amazon affiliate program, so it is only used for selling items from Amazon.
Creators earn commission on the items that they sell in their Amazon Live streams. Amazon Live can be used for product demos, unboxing videos, tutorials, and more.
Facebook Live
Facebook has recently rolled out live commerce tools for admins of Facebook Pages. Unlike the other two live stream shopping examples that we covered, Facebook Lives provides a little more flexibility for creators since anybody with a Facebook Page can use the feature.
In order to use live selling on Facebook Live, users must create a "product playlist" in their Commerce Manager dashboards on Facebook.
Keep in mind that even with the live commerce capabilities, Facebook is still a consumer-grade platform, so there are limitations. However, the implementation of this video monetization method on such a popular platform will likely help to popularize this video monetization method.
How to Implement Live Stream Shopping
As we mentioned earlier, modern streaming tools make it possible for creators to take video monetization into their own hands and get as creative as they'd like.
Implementing live shopping in your streaming setup requires the support of streaming technology that is equipped with dedicated live commerce tools.
As we mentioned, Facebook offers this support, and YouTube offers similar support, as well. However, in order to take full control of branding and keep as much of your revenue as possible, you'll need the support of a professional-grade video hosting platform.
There are tons of video hosting platforms on the market at a wide variety of price points, but it is important to look for one that has specific support for both live streaming and live commerce.
The process of setting up live commerce will vary from platform to platform, so we recommend looking into the specific documentation after you've chosen a solution.
Live Commerce on Maestro
Creators who want more control over their live commerce streams should use the support of an independent live stream hosting platform, like Maestro.
Maestro is a video platform who creators who want to create a premium streaming experience for their core audience. The platform supports a variety of monetization methods, including live commerce.
Our live commerce tool helps creators sell in-stream. We use interactive overlays and sidebar panels so that viewers can shop without leaving the stream.
Maestro offers a Shopify integration that allows users to sell directly from their Shopify stores. Creators can choose specific products or product collections to be displayed on and around their video player.
Are you ready to add live stream shopping to your streaming workflow? We invite you to try Maestro risk-free with our 14-day free trial.
Sign up today to start streaming in no time!
Share