What is an Online Video Platform? What Does OVP Mean?
An online video platform (OVP) gives your video content home on the internet. This is an essential tool for creators who want to reach their audience with video content.
Today, we're going to discuss what an online video platform is before reviewing 10 of the top online video platforms for creators.
Table of Contents
What is an Online Video Platform?
An online video platform, which is often called an "OVP" or "video hosting platform," is an app, software, or site for hosting, managing, and delivering video content.
Some OVPs are designed to support live streaming, whereas others support on-demand video streaming. Many support both.
Different OVPs have different sets of features, but some of the top features and functionalities of this sort of technology include:
Brand customization
Video monetization (subscriptions, ticketing, sponsorships, etc.)
White-label streaming
Video analytics
Private/secure streaming (password-protection, DRM, AES, etc.)
Community management
Online video platforms are valuable to creators, educators, businesses, agencies, and more. Anyone who creates or distributes video content over the internet needs an online video platform.
Free OVPs vs. Paid OVPs: A Comparison
Online video platforms come at a wide variety of price points, ranging from free to thousands of dollars per month. Some platforms offer a free plan in addition to their paid plans, whereas others are always free.
Both free and paid OVPs are valuable, and neither is inherently better. That said, they are quite different.
Free online video platforms are typically a bit more restrictive in terms of what you are allowed post, and the streaming features are often limited. Some free platforms, such as YouTube, are entitled to at least partial ownership of any content shared on the platform. Free platforms are also notorious for their limited monetization capabilities.
Even with the restrictions of free online video platforms, they are still incredibly valuable for creators that are new to the game and working with a small budget. Since a lot of the free platforms have a social media aspect, they are also great for building an online community.
Paid OVPs provide more flexibility in terms of tools and functionality. Many support brand customization, flexible monetization, hands-on customer service, and more. Paid OVPs are designed to support more advanced streaming setups.
Which you choose will depend on where you're at in your streaming journey and what you'd like to accomplish.
How to Choose an OVP
Choosing the best online video platform for your streaming needs requires careful consideration of your goals and resources. The key is to find a solution that offers all of the features you need in a plan within your budget.
That's why the first step to choosing an OVP is to assess your goals and determine which streaming features will help you reach those goals. Create a list of "wants" and "needs."
Let's say, for example, that you are a yoga instructor who wants to host online classes. Live streaming capabilities are a must if you want to host classes in real-time. However, you can use video on demand (VOD) to offer access to a library of classes. Depending on your strategy, you could require both live and on-demand hosting.
Monetization is something else to consider. You could offer tickets to live classes and workshops, subscriptions to your entire content library, or a mix of both. Look for a platform that offers the monetization methods you need with revenue splits that make sense for your strategy.
Other things to consider are customizability and support. If you want to add your branding, you'll need a white-label platform. If you need extra support throughout your live streaming journey, add that to your list of needs.
Once you've created a picture of what your ideal video hosting platform looks like, compare your criteria to the platforms that are available.
Top 10 Online Video Platforms for Creators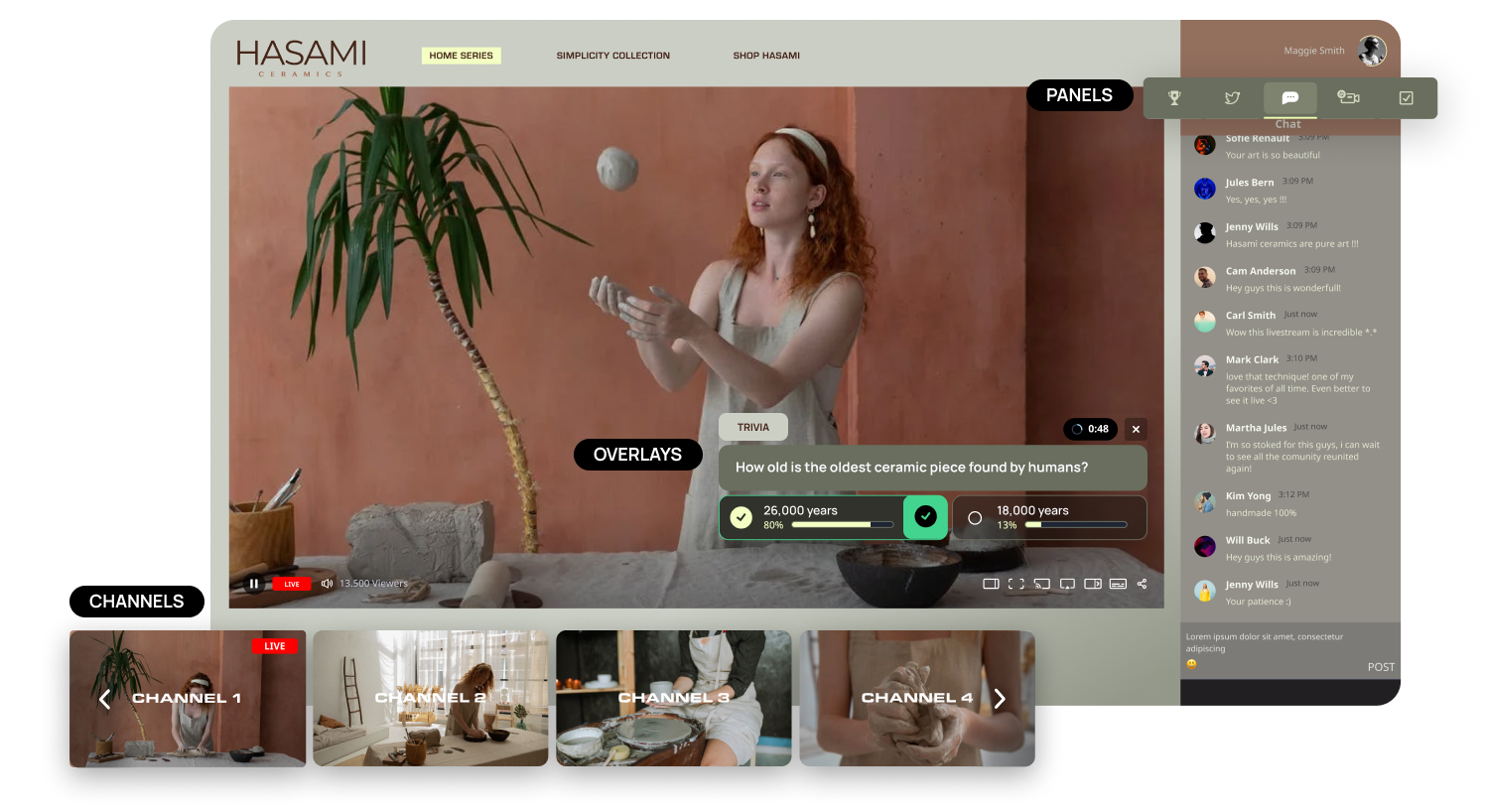 There are tons of online video platforms on the market, so we've taken some time to sort through them to find the best ones for creators. We've gathered a mix of free and paid tools that support creators at different stages of their streaming journeys.
With that said, here's a breakdown of the 10 top online video platforms for content creators.
1. Maestro
Maestro is a creator-focused online video platform that supports live and on-demand video streaming. This video hosting platform is known for its monetization tools that put creators first.
Creators can use Maestro to monetize their streams with ticketing, subscriptions, tipping, live commerce, and sponsorships. What makes Maestro unique is that creators can keep up to 100% of the revenue earned from ticket and subscription sales.
Maestro also offers a variety of panels and overlays that can be used to create interactive streaming pages and video channels. All of these elements are customizable, so you can create an on-brand experience for your audience.
This online video platform is best for creators who want to increase their earnings by creating exclusive experiences for their most loyal fans.
Although Maestro is primarily designed for professional content creators, there are pricing plans available for brands and businesses with greater streaming needs.
2. Vimeo
Vimeo is one of the most well-known video hosting platforms on the market. This tool started as a tool for filmmakers and other video creators, but after its acquisition of Livestream, it became so much more.
Creators can use Vimeo for both live and on-demand video streaming.
Like Maestro, Vimeo's pricing ranges from free for basic creator plans to high-ticket plans for enterprise streaming. It is worth noting that live streaming support is only available on plans priced at $75 and up.
3. Restream
Restream is a great tool that serves as a multi-faceted resource for video content creators. Live stream hosting is one of Restream's many functionalities.
Like Maestro, Restream supports in-browser streaming. Aside from live video hosting, Restream is primarily used for multistreaming, or broadcasting to multiple platforms at once. The platform does not support on-demand video streaming.
Restream plans range from free to $249/month.
4. Vidyard
Vidyard is a professional-grade OVP that has solutions for creators with a variety of needs. This platform has tools for both video creation and video hosting.
What's cool about Vidyard is that it supports a variety of integrations for enhanced streaming workflows. This makes things convenient for creators.
Vidyard's plans range from free to $1250/month.
5. SproutVideo
SproutVideo is a video hosting platform for live and on-demand video content. It is designed for professional creators and businesses, alike.
Some of the top features of SproutVideo include workflow customization, marketing, white-label streaming, and video analytics.
Plans on this online video platform range from $24.99/month to $499.99/month.
6. Twitch
Twitch is one of the most popular sites for live streaming. It's free to stream on this site, and it is particularly popular amongst gamers and hobby streamers. Twitch focuses primarily on live streaming, but it's possible to offer replays of previous streams for a short amount of time.
Like many free online video platforms, Twitch has restrictions on what you can post. The community guidelines have become a little laxer in recent years, but there is still an element of control over the type of content that you can produce.
7. YouTube
YouTube is another wildly popular video site that is owned by Google. YouTube's primary focus is on-demand video hosting, but it's possible to host live streams on the platform, as well.
What's nice about YouTube is that it doubles as a search engine which makes your content discoverable. The social aspect, with subscribers, likes, and comments, makes it possible to build a fanbase on YouTube. It is also easy to embed these videos on most sites.
The biggest downfalls to YouTube are the slim creator payouts, strict copyright restrictions, and rights sharing.
8. Facebook
Facebook is a social media platform that doubles as an online video platform. Its focus is more on social media than video hosting, but the platform is developing to support video streaming efforts.
Facebook supports both live streaming and on-demand video streaming, and it is free to publish video content on this platform
9. TikTok
TikTok is a social media platform that focuses exclusively on video. This platform is used for short-form video sharing, and it is completely free to use.
Its unique algorithm makes it possible for creators to go viral on TikTok even with a small following. TikTok also has a creator fund for some video monetization.
It's worth noting that TikTok's branding is on all content published to the app, and the branding stays even when users export their creations. This app also has strict restrictions on content, and it is known to take videos down even if they comply with the community guidelines.
Live streaming on TikTok is not accessible to all users, and live streaming permissions can be revoked at the drop of a hat.
10. Instagram
Instagram is a social media platform that was originally designed for photo sharing, but in the past few years, video has become the focus of the platform. Users can go live on Instagram or share videos to their feed. Instagram also has Reels, which are short-form videos, similar to the ones you'd find on TikTok.
This app has recently rolled out a subscription feature that allows users to pay a monthly fee for premium video content and interactions from their favorite creators. This feature is brand new, so it will be interesting to see how creators use it moving forward
Instagram is free to use, and since it is a social platform, it is great for community building.
Start Streaming on Maestro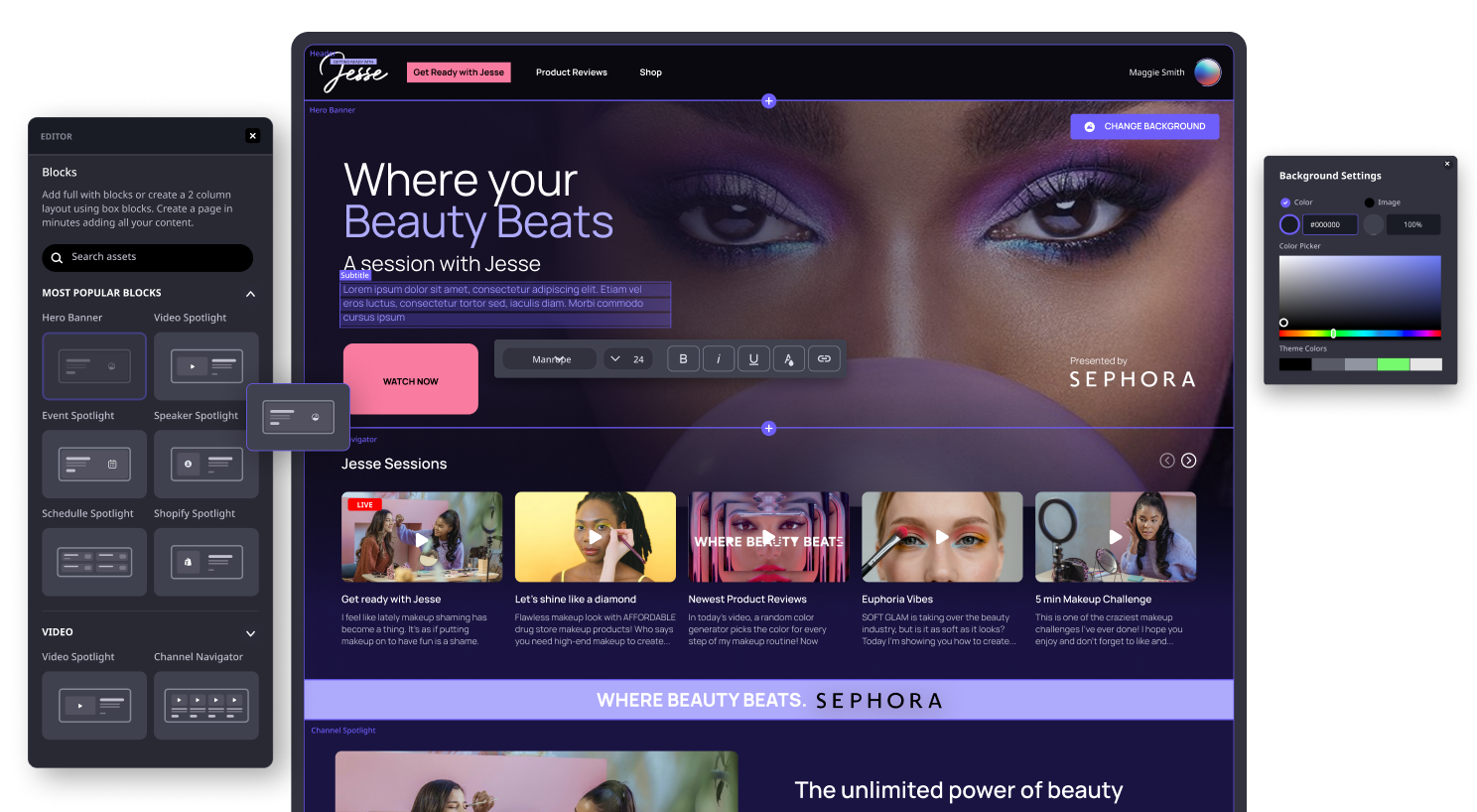 It's important to choose an OVP that can support you both where you are and as you grow. Here at Maestro, we do just that.
Our platform is equipped with the tools you need to grow and scale your online video business. Sign up today to start streaming for free.
Share