How to Host a Virtual Concert: The Basics
Online concerts enable artists to reach their fans both near and far. Streaming technology rose to the occasion when artists wanted to continue to perform even when they couldn't host shoes in person.
Even though in-person events have resumed, many event hosts are adding a virtual aspect to their concerts. That's where online concert hosting comes into play.
In this post, we will talk about how to host a virtual concert. We will talk about the benefits of hosting an online concert as a complement to your in-person event before we dive into a step-by-step tutorial on how to host a virtual concert.
Why Host an Online Concert?
If you're hosting an in-person concert, putting a little extra effort into streaming your concert can yield great returns. You can reach more fans and make more money in the process.
Streaming the concert will make your show accessible to more viewers from around the world because it removes the need to travel. This makes it more affordable for your fans to see your shows.
Plus, by opening your concert to online attendance, you can sell more tickets than you can in a physical concert venue. More ticket sales equal more happy fans and more money in your pocket.
How to Host a Virtual Concert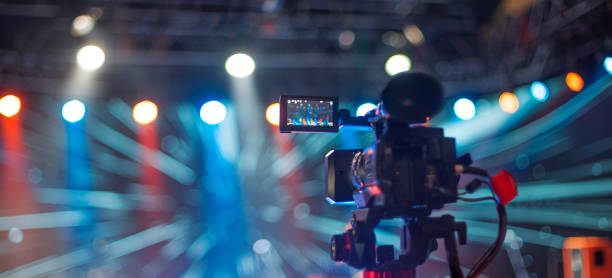 Online streaming technology has made great strides in the past few years. These developments have made hosting a virtual concert possible for anybody, no matter how much streaming experience they have.
With that said, let's talk a bit more about how to host a virtual concert.
1. Create a Plan
As a concert organizer, you probably have a grand plan of how you'll carry out the show. This likely includes a date, venue, lineup, setlist, ticket sales strategy, lighting coordination, and so forth.
If you plan to stream your concert, you'll need to create a live streaming plan that aligns with your grand plan. Think about the experience you want your online viewers to have and strategize for how you can make that a reality.
Plus, think about how you want to monetize your streams. Do you want to stick with virtual ticket sales, or would you like to secure sponsors for the online component of your show? What about using live commerce to sell merch?
As you think about monetization, concert ticket prices. Online concert tickets are often a bit more affordable than in-person tickets, but as the event planner, it is up to you to decide.
2. Choose a Streaming Platform
Once you're clear on your plan and what you'd like to accomplish, it is time to choose a streaming platform that can help you reach those goals.
Some valuable features to look for in an online video platform include:
Flexible

monetization

options
Engagement tools
Live chat
Content ownership rights
Audience/community ownership
When it comes to hosting an online music concert, a paid streaming platform is typically the way to go. That's because a paid platform is more likely to have the features you need for a professional-grade live stream.
Some great platforms for hosting online concerts include Maestro, Panopto, Muvi, and Livestream. YouTube and Twitch are options, as well, but they simply do not have the functionality and flexibility of a paid tool.
We recommend testing a variety of platforms with their free trials to help decide which one is the best for you.
3. Promote and Sell Tickets
The next step is to promote and sell the tickets for your virtual concert. This step will be a breeze since you're already promoting your concert for in-person attendance.
The ticket promotion for your virtual concert should line up with the promotion and sales for your in-person tickets. Use social media, paid ads, email blasts, a banner on your website, and any other promotional methods that you're already utilizing.
4. Prepare Your Setup
Now, it's time to prepare your streaming setup.
You'll need a camera, audio capture equipment, an encoder, and a computer to produce your steam on. Audio mixing tools are also important since the quality of the sound in a virtual concert needs to be pristine.
Since concerts often contain a lot of dancing and movement, a camera that is capable of capturing action is a must. You can get away with a GoPro if you have a small stage and a tight budget. However, investing in a couple of camcorders to produce a multi-angle stream will improve the quality of your virtual concert.
If your concert is in a stadium or arena, you'll need a slightly more advanced streaming setup. However, this is also easy to achieve if you're already broadcasting a variety of angles and shots on the jumbotron. All you need to do is ensure that all of your equipment is compatible with your streaming software.
5. Start Streaming
When the lights go down and it comes time to perform, you can start your stream.
Many hybrid event hosts start the stream before the concert actually starts. Oftentimes, this is with prerecorded content, a count down, or a static screen.
Do one last check to make sure your settings are properly configured, and click the button to start streaming.
Host Virtual Concerts on Maestro
Much of the success of your virtual concert rides on the video hosting platform that you choose. Luckily, Maestro offers all of the tools you need to host and monetize your virtual concerts.
The platform enables concert planners to monetize their streams with ticketing, sponsorships, tipping, and more. What makes Maestro unique from other platforms is that creators get to keep 100% of their ticket sales.
Plus, our chat tool makes it possible for fans to talk to one another and cheer you on in real-time. Easy-to-use overlays are also available to make your online music concerts interactive and engaging.
Sign up for Maestro today to start streaming in no time at all!
Share