Cleeng Review: Features, Pros and Cons, Pricing, and More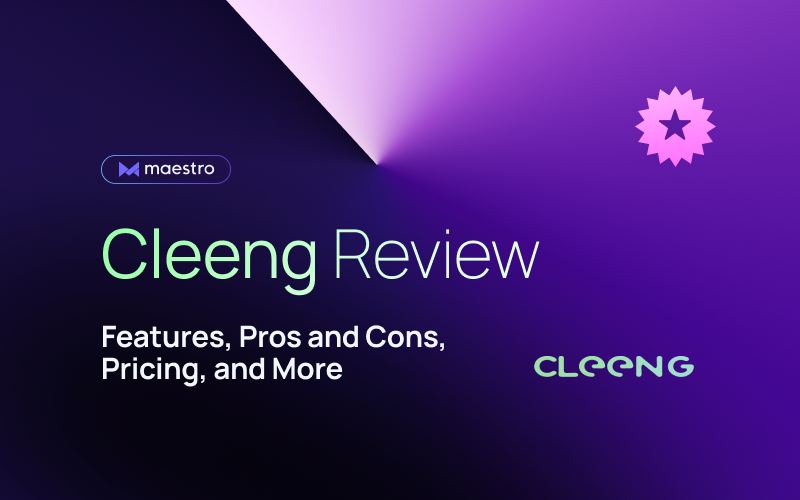 With so many options on the market, choosing a tool to monetize your online video content can be difficult. Cleeng is the go-to video monetization solution for many brands and creators. However, before committing to a solution like this, it's important to know exactly what you're signing up for.
In this article, we'll do a thorough review of Cleeng. We'll discuss what Cleeng is, what the platform offers, and the best use cases. To wrap things up, we'll compare Cleeng to Maestro's monetization tools.
Table of Contents
What is Cleeng?
Cleeng is a video paywall and subscription management tool that is designed to help brands and creators monetize their video content. This solution is designed to help users grow their subscription video on demand (SVOD) businesses.
In addition to video monetization, Cleeng users can access customer service and analytics services for an additional fee.
It's worth noting that Cleeng focuses on video subscription management, not video hosting. This tool is one that you'd add to your streaming tech stack in addition to your online video platform (OVP).
Cleeng's Key Features
Subscription management
TVOD and pay-per-view
Checkout optimization
Analytics (paid upgrades)
Customer service (paid upgrade)
Wide variety of integrations with other powerful technologies
Cleeng Best Use Cases
Cleeng is best suited for users who are hosting video content on a platform that does not offer video monetization support.
Since Cleeng is implemented with API, it is also well-suited for organizations that have access to someone with the necessary skills and experience to set up this tool. This could be an in-house tech specialist or a contractor.
Looking for a more comprehensive streaming solution? Try Maestro for free.
Cleeng Pricing
Cleeng uses a buildable, usage-based pricing model. Customers can combine one or more of Cleeng's three services (Core, ChunIQ, and Hi5) and can pay per Managed User in increments of 1000, 25,000, 100,000, 250,000, 500,000, and 1,000,000+.
Excluding custom plans for 500,000 and 1,000,000+ Manager Users, the per Managed User rate ranges from $0.135 to $0.325 for the Core offering.
When you build upon Core with ChurnIQ and Hi5, these rates jump to $0.378 to $0.874 per Managed User. Hi5 is more expensive than ChurnIQ.
You can check out the pricing scale on the Cleeng pricing page to get more precise rates for your specific needs, but the bottom line is that the pricing is a bit complicated.
Pros and Cons of Cleeng
Pros

Cons

Dedicated monetization tools
Usage-based pricing is flexible
Minimal content restrictions
Integrates with many powerful tools

The offering is limited to monetization tools
Access to customer support requires a paid upgrade
Dozens of negative reviews from past customers (calling Cleeng a "scam")
Cleeng vs. Maestro for Video Monetization
The key difference between Cleeng and Maestro is that Cleeng simply provides video monetization with some basic analytics. With that said, let's take a look at how these video monetization tools compare side-by-side.
| | | |
| --- | --- | --- |
| | Maestro | Cleeng |
| Pricing | Simple monthly pricing plans | Usage-based pricing plans |
| Functionality | Video hosting, live streaming, diverse video monetization, video website building, data and analytics, community management, and more | Video paywall, subscription management, and analytics |
| Revenue Sharing | Users keep up to 100% of the revenue earned on tickets and subscriptions | Users report that Cleeng keeps up to 50% of revenue |
| Strengths | End-to-end video hosting (including monetization) | Video monetization |
| Monetization Tools | Ticketing, subscriptions, tipping, ticket bundles, and live commerce | Ticketing and subscriptions |
| Interactivity Tools | Clickable overlays, chat, customizable panels, CTAs, and more | n/a |
| Video Website Building | Easily customizable drag-and-drop video website builder | No video website building tools; only paywalls |
Host and Monetize on Maestro
If you're looking for a streaming solution that includes monetization, interactivity, community management, and more, look no further. Maestro is the solution for you!
Our comprehensive video streaming solution provides all of the tools you need to create premium viewing experiences, engage your audience, and diversify your video monetization strategy. Plus, Maestro offers detailed analytics and community dashboards, so you'll have all of the information you need to make informed decisions for your business.
Best of all, you can try Maestro risk-free for two weeks to see how powerful the platform is!
Join our Discord server to learn how other brands and creators are using Maestro to monetize their content.
Share