SVOD, AVOD & TVOD: Comparing The Top Video Monetization Models for VOD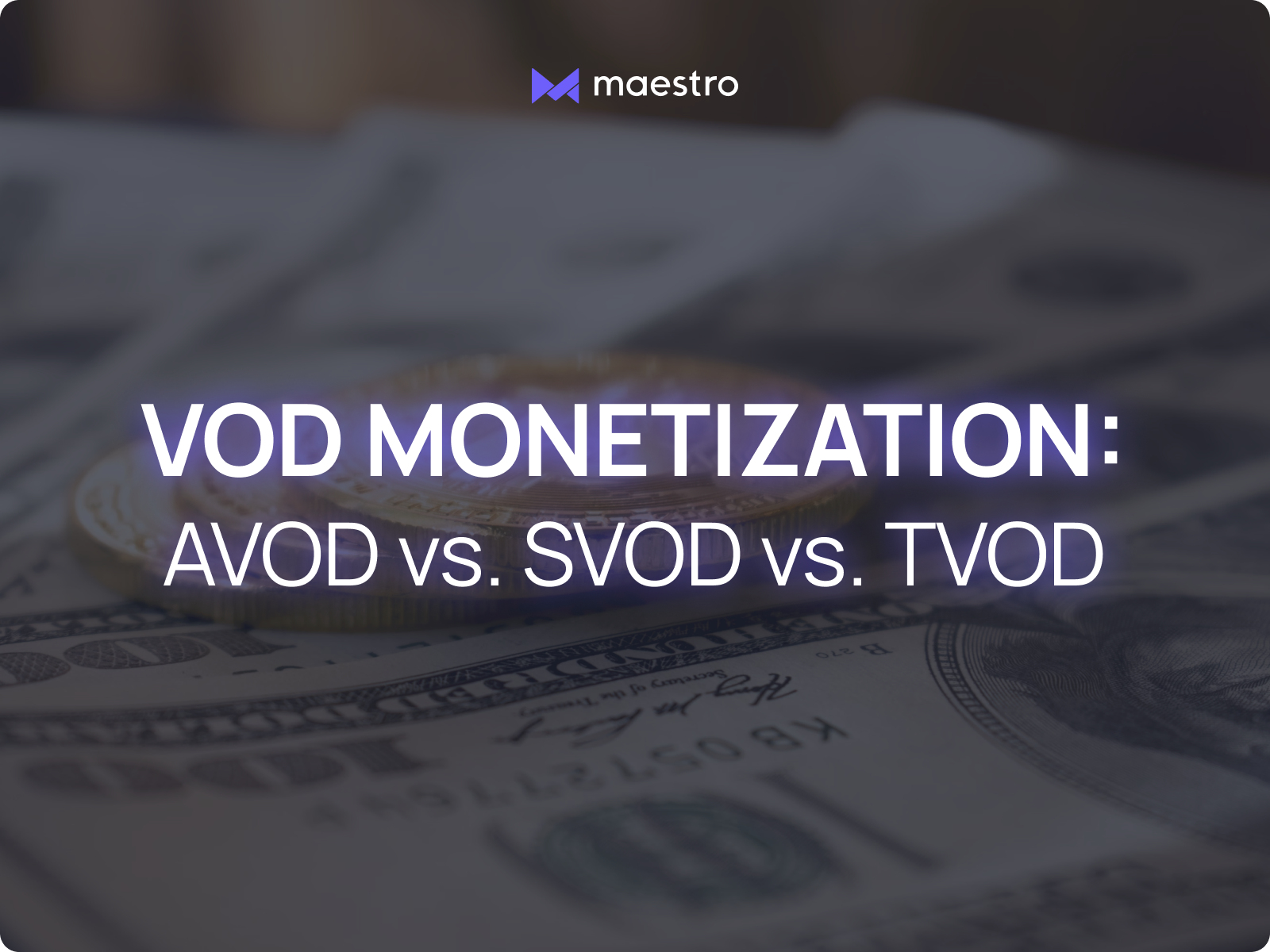 There are several ways that brands and creators can make money streaming, but when it comes to video on demand (VOD), there are three primary video monetization models.
These methods are typically used to monetize OTT streaming services, enabling media companies and creators to monetize their libraries of content.
In this article, we will compare the top video monetization models for on-demand streaming, including SVOD, AVOD, and TVOD. We will review how each of these monetization methods works before looking at examples of each in action.
Table of Contents
Video Monetization: The Basics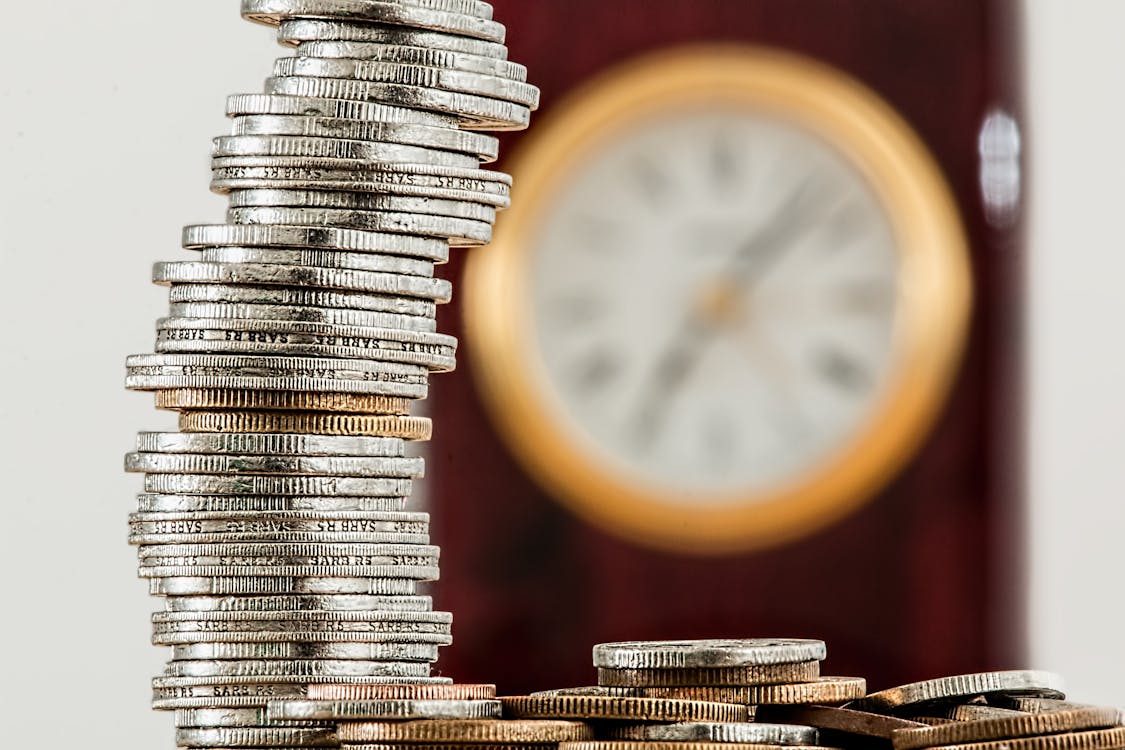 Video monetization refers to any means that are used to make money from video content. This term has become especially important in light of the popularization of online video streaming.
There are many ways to monetize video, and many of these models are made possible with the support of a video CMS, an online video platform, or other streaming software.
How you monetize your videos depends on the nature of your content, the size of your library, and the value you can provide to your viewers.
What is VOD?
VOD is short for "video on demand." This is a style of streaming that allows viewers to choose content from a library to watch whenever they want.
With VOD streaming, viewers can access video content over the internet. This is powered by OTT technology, which has allowed consumers to access films, series, and other videos from just about any internet-enabled device.
Live streaming is different from VOD, and while some of the monetization methods for this style of streaming overlap, this article will focus on VOD-specific monetization methods.
SVOD vs. AVOD vs. TVOD
SVOD, AVOD, and TVOD are the three most common monetization models for on-demand streaming. Each of these models is unique and can be implemented in a variety of use cases.
Let's take a look at what each of these video monetization models is all about.
SVOD Meaning: What is Subscription VOD?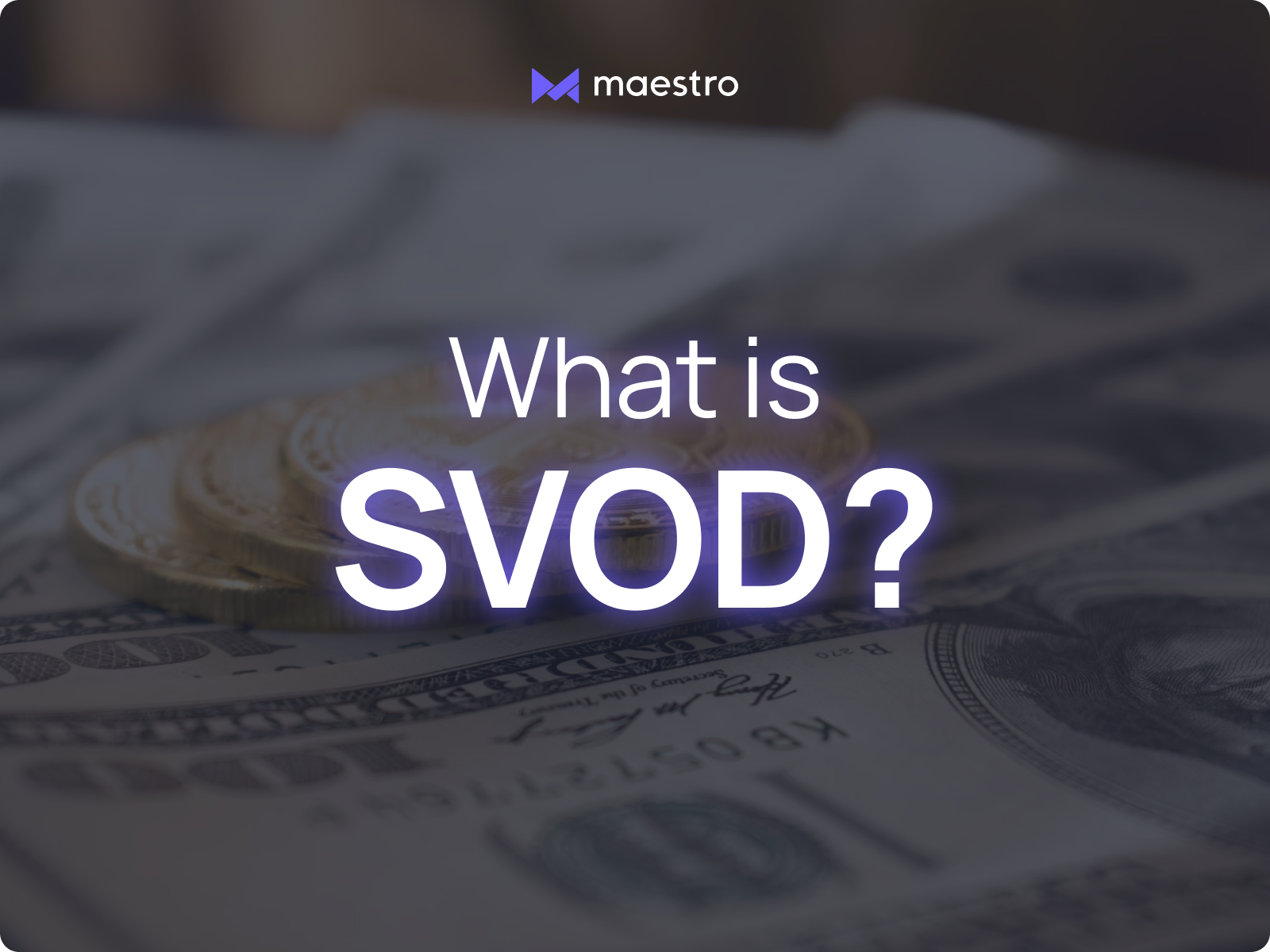 Subscription video on demand, or "SVOD" for short, is a video monetization model that requires viewers to subscribe to streaming services to access the content. SVOD can be used to monetize educational content, entertainment media, and more.
Typically, this includes unlimited access to a library of content. Subscriptions can be renewed monthly, quarterly, or annually. In rare cases, subscriptions can be as short as a week long.
Oftentimes, video subscription services offer access to some content that is exclusive to the platform. It is also common for these types of platforms to buy rights to content from other firms.
Here are some pros and cons of SVOD.
| | |
| --- | --- |
| Pros of SVOD | Cons of SVOD |
| Recurring revenue you can count on | The most expensive model (for viewers) |
| "Set it and forget it" | Requires hard work to keep the value consistent for subscribers |
| Create premium or exclusive customer experiences | Requires more resources to maintain |
AVOD Meaning: What is Ad-Based VOD?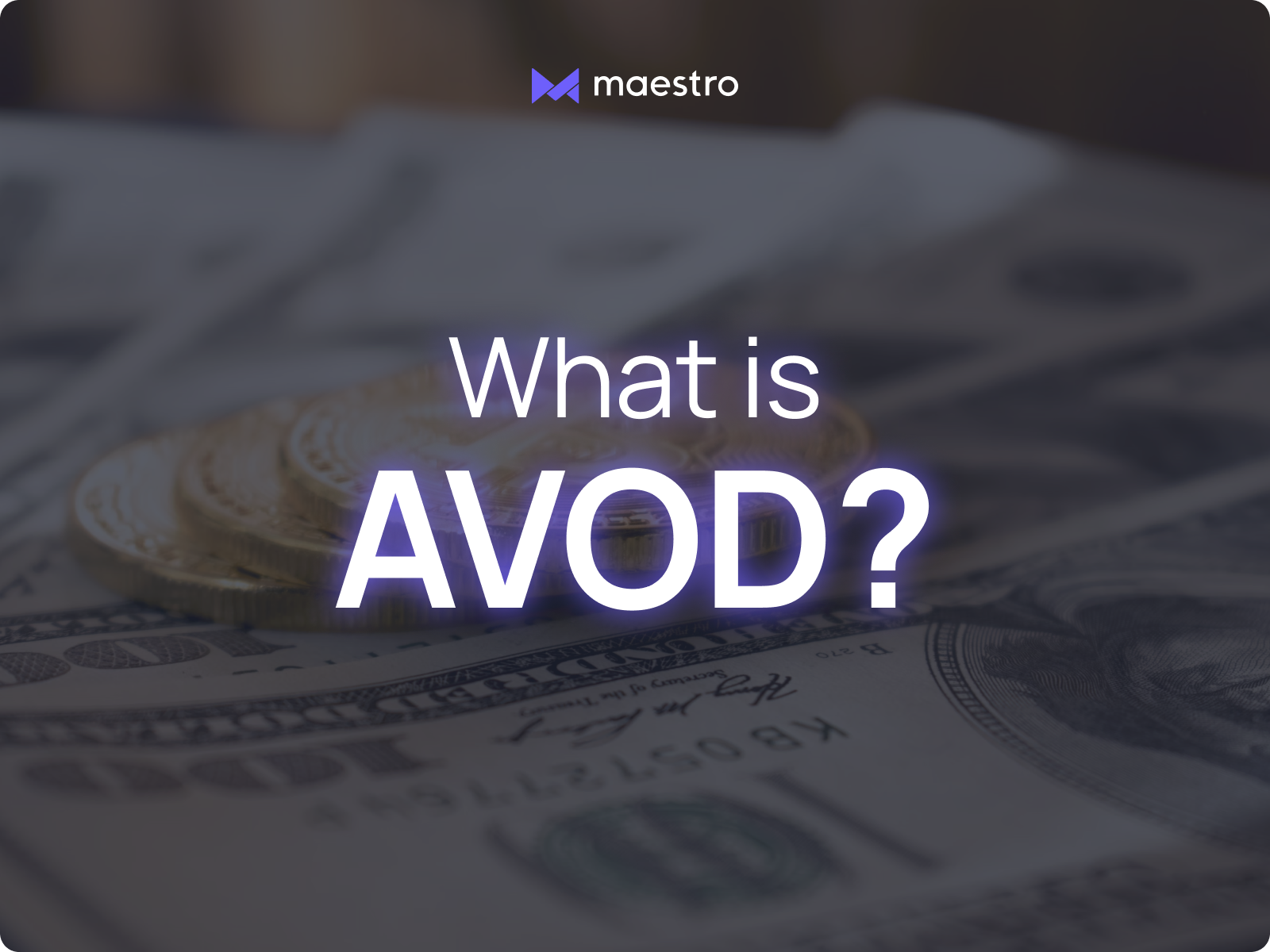 Ad-based video on demand, also known as "AVOD," is a video monetization model that involves presenting ads to viewers. Video creators or publishers make money on every ad that is viewed. This money is paid by the brands that are promoting their products, services, or organizations in the advertisement.
Typically, this requires working with an ad server or publishing on a platform that supports AVOD.
There are three types of ads that are used in AVOD: pre-roll, mid-roll, and post-roll. As the names suggest, pre-roll ads are shown before the content starts, mid-roll ads are placed within the video, and post-roll ads are shown after the video ends.
If you use AVOD, it is important to ensure that the advertisements, and the brands behind them, align with your brand,
Here are some pros and cons of AVOD.
| | |
| --- | --- |
| Pros of AVOD | Cons of AVOD |
| Free for viewers | Might be offputting to viewers |
| Lowers the threshold of getting in front of viewers | Requires a lot of views to generate significant revenue |
| Easy to enable with the support of an ad server | Requires qualifying for advertising from an ad server or ad agency |
TVOD Meaning: What is Transactional VOD?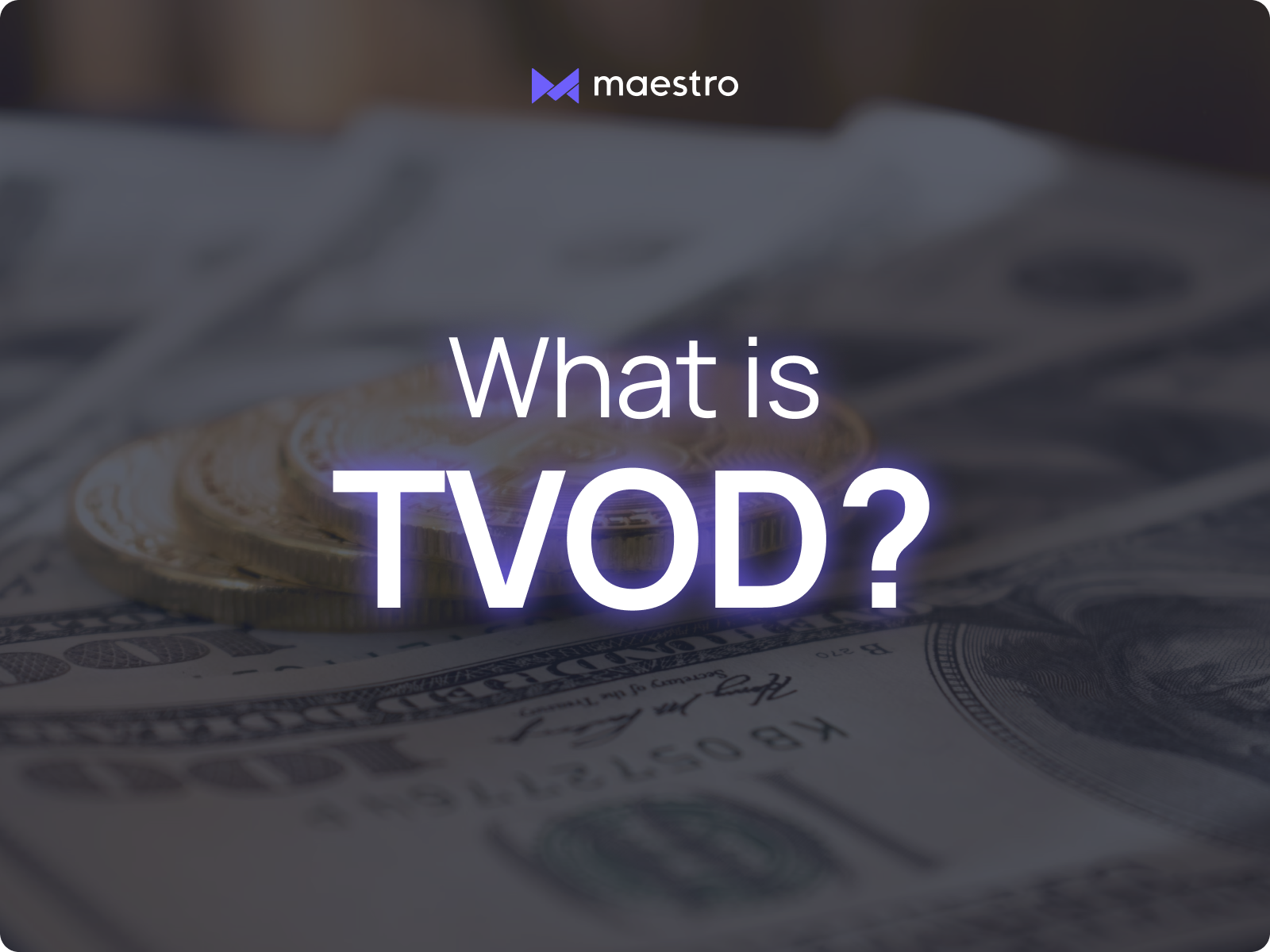 Transactional video on demand, or "TVOD" for short, is a monetization model that enables to only pay for what they want to watch. This is also known as pay-per-view.
With TVOD, buyers can rent a video for temporary access or buy a video for permanent access. This monetization model can be thought of as the modern RedBox or Blockbuster.
This is a great option if you want to get business from buyers who may not be willing or able to pay a subscription fee.
Here are some pros and cons of TVOD.
| | |
| --- | --- |
| Pros of TVOD | Cons of TVOD |
| Attractive to viewers who want to only pay for what they use | No recurring revenue |
| Option to buy or rent | Lacks a sense of community |
| Lower prices for viewers | Less loyalty than subscriptions |
SVOD, AVOD, and TVOD in Action
Let's review how SVOD, AVOD, and TVOD are applied in real-world settings to give you a better idea of how these monetization models could look in your streaming setup.
SVOD Example
Netflix is a great example of SVOD. SVOD is the only monetization method that Netflix uses, which is unique since many of the other major OTT streaming services use a combination of methods.
This platform offers several subscription tiers. All tiers offer access to the same library of content, but higher-priced subscriptions enable viewing on additional screens, making it suitable for those with larger households.
AVOD Example
YouTube is among the best examples of AVOD. YouTube offers pre-roll, mid-roll, and post-roll ads. The platform uses Google Ads since YouTube is owned by Google. As of 2021, YouTube had paid out over $30 billion to creators in ad revenue.
TVOD Example
Prime Video and Apple TV are two streaming services that use a mix of monetization methods, but both have remarkable activations of TVOD. Both services allow users to buy or rent films and series. It's also worth noting that both of these services also use SVOD, as well.
How to Choose a Monetization Model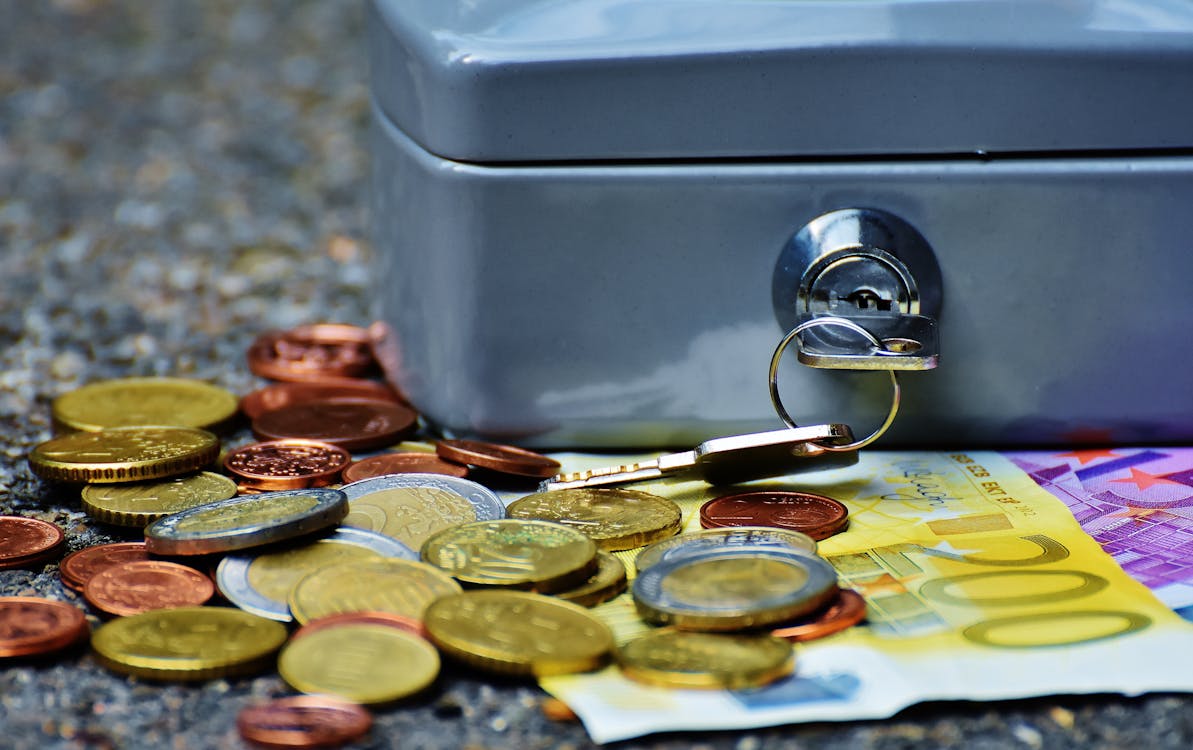 Choosing a monetization model for your VOD content requires careful consideration of the true value of your content.
For example, if you have a library that you don't plan to expand past ten videos, charging a one-time fee with a TVOD structure or monetizing with advertisements makes the most sense.
However, if you have an ever-growing library of content, an SVOD strategy makes more sense. You could also make money with ads if you're still building brand loyalty and are struggling to get viewers to convert to paying subscribers.
SVOD, AVOD, and TVOD can be used on their own or in conjunction with one another. A platform can use a combination of SVOD and AVOD, like Hulu, or SVOD and TVOD, like Prime Video. However, the TVOD and AVOD combination doesn't usually make sense.
An activation of an AVOD and SVOD combination could be to monetize with ads for free viewers but give them the option to upgrade to a paid subscription to remove the advertisements.
Monetize with Maestro

Maestro is an online video platform that enables brands and creators to build interactive streaming experiences and monetize them with some of the most competitive revenue share splits on the market.
Some of Maestro's most notable video monetization features include subscriptions (SVOD), ticketing (TVOD), live commerce, and tipping.
Sign up for Maestro to start monetizing your videos in no time at all!
Join our Discord server for more helpful tips and tricks!
Share