Maestro x Gramrphone: Powerful Audio & Video Encoding with a Simple Partnership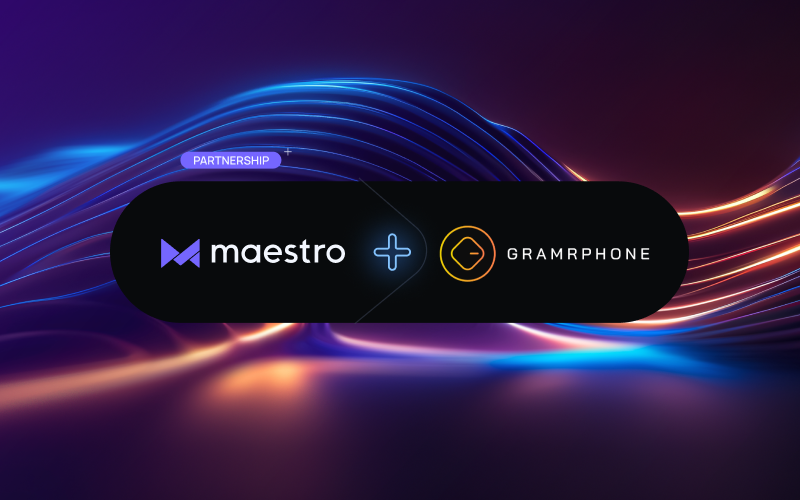 Gramrphone and Maestro are coming together to help music creators earn more money, control their content, and deliver incredible live streams to fans worldwide. Combining a high-quality streaming encoder from Gramrphone with a best-in-class video solution from Maestro, creators can deliver elevated streaming experiences to audiences from their own website and multi-steam to platforms such as YouTube, Twitch, and more.
Let's explore everything you need to know about this exciting new partnership!
What is Gramrphone?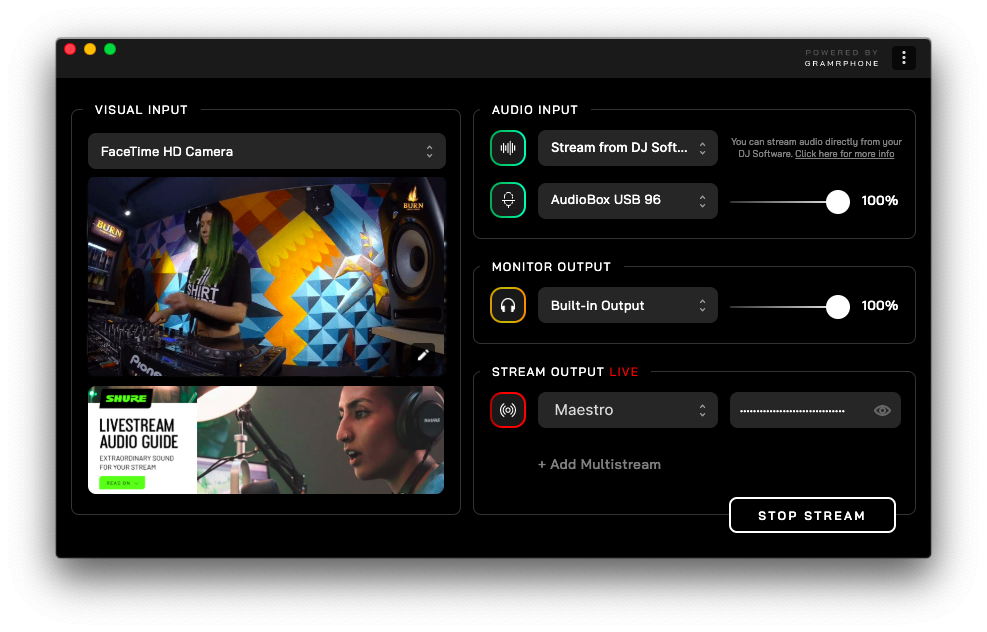 Gramrphone is a free all-in-one live streaming encoder built for DJs, musicians, and producers. It includes all the technical components needed to capture and live stream high-quality audio and video directly from your DAW, DJ Software, or desktop straight to platforms, including Maestro, without any buffering or performance issues.
As music creators themselves, the Gramrphone team recognized that existing live streaming encoders such as OBS Studio and Streamlabs catered far more to streamers and gamers.
Musicians often have complex setups and specialist equipment designed to create pristine audio, and Gramrphone is designed to support these audio-focused setups.
Maestro x Gramrphone: The Purpose
As virtual events carried out by live streams have risen in prominence, musicians have turned to Gramrphone as the encoding tool of choice to deliver high-quality live performances, listening parties, and studio sessions.
Many of these virtual events are hosted on large social platforms, like YouTube or Twitch, where viewership and monetization are controlled by the platforms, not the creators.
Now, DJs, musicians, and producers can deliver high-quality streaming while taking charge of their content, layering in interactivity, and adding monetization by using Gramrphone and Maestro together. Plus, music creators can multi-stream to Twitch, YouTube, and now, their own website, which means they can create a direct relationship with their superfans and build a new revenue stream.
The Benefits of Gramrphone and Maestro's Partnership
The Gramrphone x Maestro partnership has many benefits for creators, including high-quality audio encoding, ease of use, and more. Let's take a closer look at each of these benefits.
High-Quality Audio Encoding
Gramrphone's new partnership with Maestro enables music creators to instantly deliver 320kbps high-quality live music experiences directly from their studio to their fans via Maestro.
Easy-to-Use Interface
Gramrphone's new partnership with Maestro offers a plug-and-play live stream encoder that is extremely easy to use. With the partnership, the setup is minimal because it requires no additional software or hardware.
The Encoder is Free
The best part of Gramrphone is that the encoder is completely free to use. This is great for those new to the streaming world and who want to experiment with an encoder or those working with a tighter budget.
Phenomenal Video Interactivity
Maestro brings tremendous value to Gramrphone users who want to create more premium experiences.
Some of the top interactivity features on Maestro include live chat, clickable graphic overlays, customizable CTAs, and customizable panels. The best part is that Maestro is completely white-label, so all of the interactive elements can be customized to reflect your brand.
Flexible Video Monetization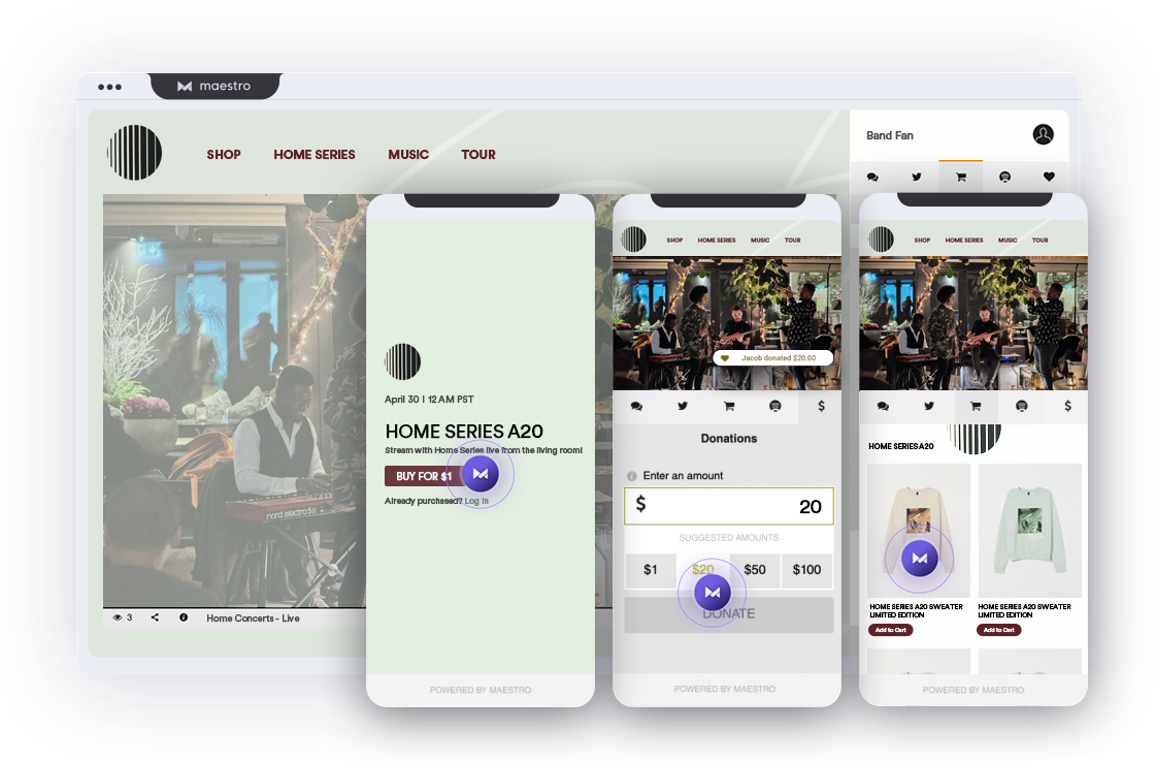 Maestro opens doors to many monetization options with as little as 0% revenue shares. These monetization methods include:
Tipping
Subscriptions
Ticketing
Live commerce
Sponsorships
These monetization tools can be combined to activate whatever strategy makes the most sense for your video business.
Music Streaming on Maestro
Maestro has hosted streams for major musicians, including Billie Eilish, Melissa Etheridge, and GODDESS IS A DJ. With Gramrphone's new Maestro partnership, these and other musicians can easily ensure high-quality audio encoding without breaking the bank.
Interested in streaming on Maestro? Sign up for free to start streaming in no time at all.
Join our Discord server to learn how other musicians are using Maestro to reach their streaming goals.
Share