What is a Video CMS? Why Use a Video CMS?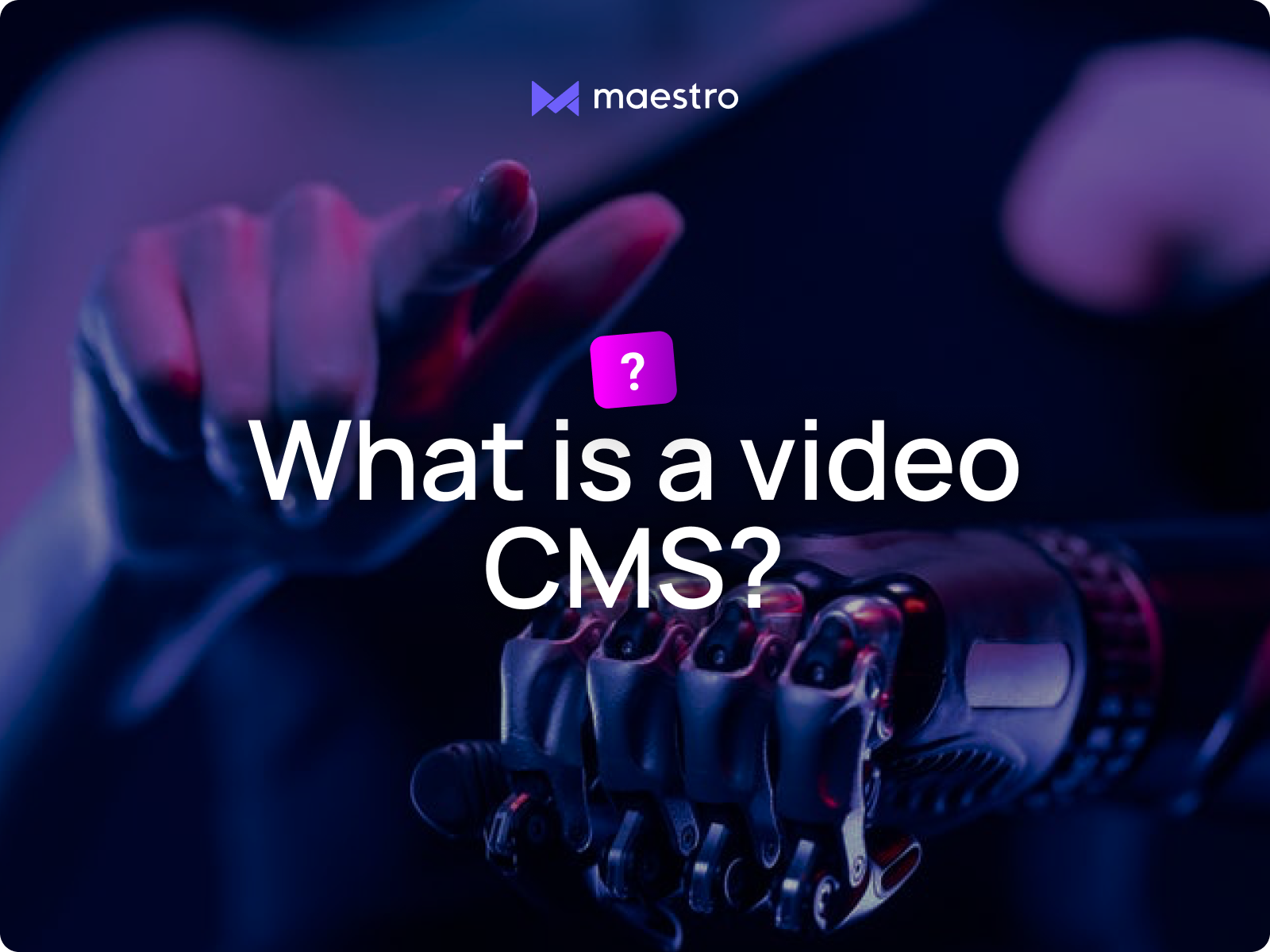 With the consistent growth of the online video industry, more brands and creators are adding this engaging medium to their business strategies. Since video files tend to be bulky, it requires special technology to successfully host and deliver this type of content.
That's where a video CMS comes in handy. This technology is dedicated to housing and managing large video files.
In this article, we'll discuss what a video CMS is and why a brand or creator might need this sort of technology. We'll also review 5 of the best video CMS software options in 2022.
Table of Contents
What is a Video Content Management System (CMS)?
A video content management system (CMS) is a digital platform that is used to host video content. This term refers to any software for hosting and delivering video content.
There are a few types of video CMSs, including those that can be operated in-browser and those that are downloadable software. Video CMS software can focus on live streaming, on-demand video hosting, or both.
Furthermore, a video CMS can simply be for managing video content internally, or it can be used for delivering video content to external viewers.
Why Use a Video CMS?
The main use of a video CMS is to act as the warehouse for your video content. It serves as the home to these large video files that take up a lot of space in the cloud or on your hard drive.
Let's say you want to add videos to your website. Even if your website builder supports video upload, the large files can still destroy your site speed and cause a variety of issues. By hosting them on a video CMS, you can utilize a system that is designed to withstand the bulkiness of videos and embed its player into your website for a seamless viewing experience.
With the support of the video CMS, you can achieve the goal of creating a video website without running into any of the issues that would come with uploading videos on the standard website builder.
How to Use a Video Content Management System
You can use a video content management system for several things. Some popular ways to use a video CMS include:
Large collections of content for entertainment (e.g., a Netflix-like platform)

Live streamed

events (e.g., webinars,

music festivals

, all-hands meetings, etc.)
Courses for an educational program
Training videos for an enterprise
Video portfolios (for artists, musicians, filmmakers, etc.)
These examples are simply a few of many. Just about anyone who has large collections of videos to manage and distribute can benefit from this technology.
How to Choose the Best Video CMS
Choosing the best video CMS for your unique needs requires understanding what different video management systems have to offer. The main things to consider as you compare your options are functionality, features offering, and your budget.
Let's take a moment to explore these three considerations.
Functionality
As we mentioned, different video management systems have different functionality.
For example, if you're looking to host live events, you should choose a video CMS that supports live streaming. If on-demand video content is more important for your intended use case, choose a video CMS with VOD capabilities.
You may also look out for an in-browser tool versus downloadable software. It all comes down to what you need and what you prefer.
Features
It is also important that your video CMS includes all of the features you need to reach your video streaming goals.
Some popular features to look for in a video management system include:
Monetization (PPV, subscriptions, tipping,

live commerce,

etc.)
Live chat
Engagement tools (panels, overlays, etc.)
White-label video player
Brand customization
Embeddable video players
Customer support
Some of these features will be more important to you than others. What matters is that you're equipped with the tools you need to achieve your unique goals.
Budget
Last but not least, you'll need to make sure that your chosen video CMS fits your budget. Most often, video CMSs are priced with monthly or annual subscriptions. Sometimes, usage or data costs apply.
Since different video CMS software has different features and functionality, they come at different price points. Video CMS subscriptions run anywhere from a few bucks per month to thousands per month.
Your video CMS budget is likely part of a larger budget, whether it be a marketing budget, operational budget, or something similar. A good exercise for deciding what portion to allot to your video CMS subscription is calculating your intended return on investment and going backward from there.
Some quick math says that if you offer unlimited access to a library of content for $15 per month and you expect at least 100 viewers to subscribe, you can spend $1,500 to break even. If your monthly video production costs are $100 and you spend $100 per month on a video CMS subscription, you're making $1300 in profit on a $200 investment.
Of course, these numbers are very different at different scales, so it is up to you to determine an appropriate budget for your operations.
Top 5 Video CMS Software Options in 2022
There are quite a few video CMS software options on the market. As we've covered, they vary in price, functionality, and feature offerings.
Here are five of the best video CMS products on the market in 2022.
1. Maestro

Maestro is a video CMS that helps brands and professional creators create premium streaming experiences for their core audiences.
What makes Maestro unique is that the video CMS offers a fully customizable front end. Users can easily create video websites that offer their viewers branded streaming experiences with an unlimited number of landing pages and channels.
Plus, Maestro strives to offer the most powerful video monetization toolbox on the market, so the list of monetization features is constantly evolving.
Functionality:
On-demand video hosting
Video website building
Embeddable video player
In-browser streaming
Key Features:
Monetization (ticketing, subscriptions, tipping, live commerce, and more)
Clickable panels and overlays
Drag-and-drop video site builder (landing pages, channels, and more)
Brand customization
Multistreaming via Studio
Live chat
2. Panopto
Pantopto is another popular video CMS that is built for scalable video storage. This video management system is primarily designed to support learning-focused live streaming.
This video CMS is geared toward sharing videos within an organization, so it is best suited for sharing content with a team or a body of students. It is not well-suited for those who are looking to grow their audiences.
Functionality:
Live streaming
On-demand video hosting
Downloadable software
Key Features:
Secure streaming
Learning management system (LMS integration)
Video discovery
Monetization with InPlayer integration (not native)
Engagement tools (quizzes, polls, etc.)
Video analytics
3. IBM Video Streaming
IBM Video Streaming is one of several video hosting products from Watson Media. This cloud video CMS offers a slew of valuable video hosting tools for brands and creators of every size.
One notable feature of this video management system is that users can record live streams to either publish as replays or to save for their internal archives.
The video player from IBM Video Streaming can be embedded into your website, or it can live in a customizable channel. A limited number of channels come with each plan.
Functionality:
Live streaming
On-demand video hosting
Customizable channels
Key Features:
Transcoding
Live stream recording
Multi-CDN
Live chat
Playlists
Mobile-friendly streaming
4. Vimeo
Vimeo is amongst the most popular video management systems on the market. This started as a tool for artists and creators to share their work, and it has since evolved into a powerful enterprise solution.
While the Vimeo technology is equipped with a wide range of streaming features, some of the most useful features are only included in the most expensive plans. You can get started for just a few dollars a month, but the functionality of the cheaper plans is a bit limited.
Functionality:
On-demand video hosting
Live streaming (on higher ticket plans)
Embeddable video
Video website builder (only on higher ticket plans)
Key Features:
Video monetization
Ad-free streaming
Screen recording
Video templates
White-label streaming
5. Wistia
Wistia is a video CMS that is built for marketing. This cloud-based video CMS enables businesses to host, manage, and share their sales assets and marketing presentations.
What makes Wistia different from the other video CMS software options we've reviewed is that it is purely designed for on-demand video hosting. That means that this platform does not support live streaming.
Functionality:
On-demand video hosting
Video sharing
Embeddable video player
Key Features:
Marketing tools
Advanced video organization
Video editing
Analytics
Password protection
Stream on Maestro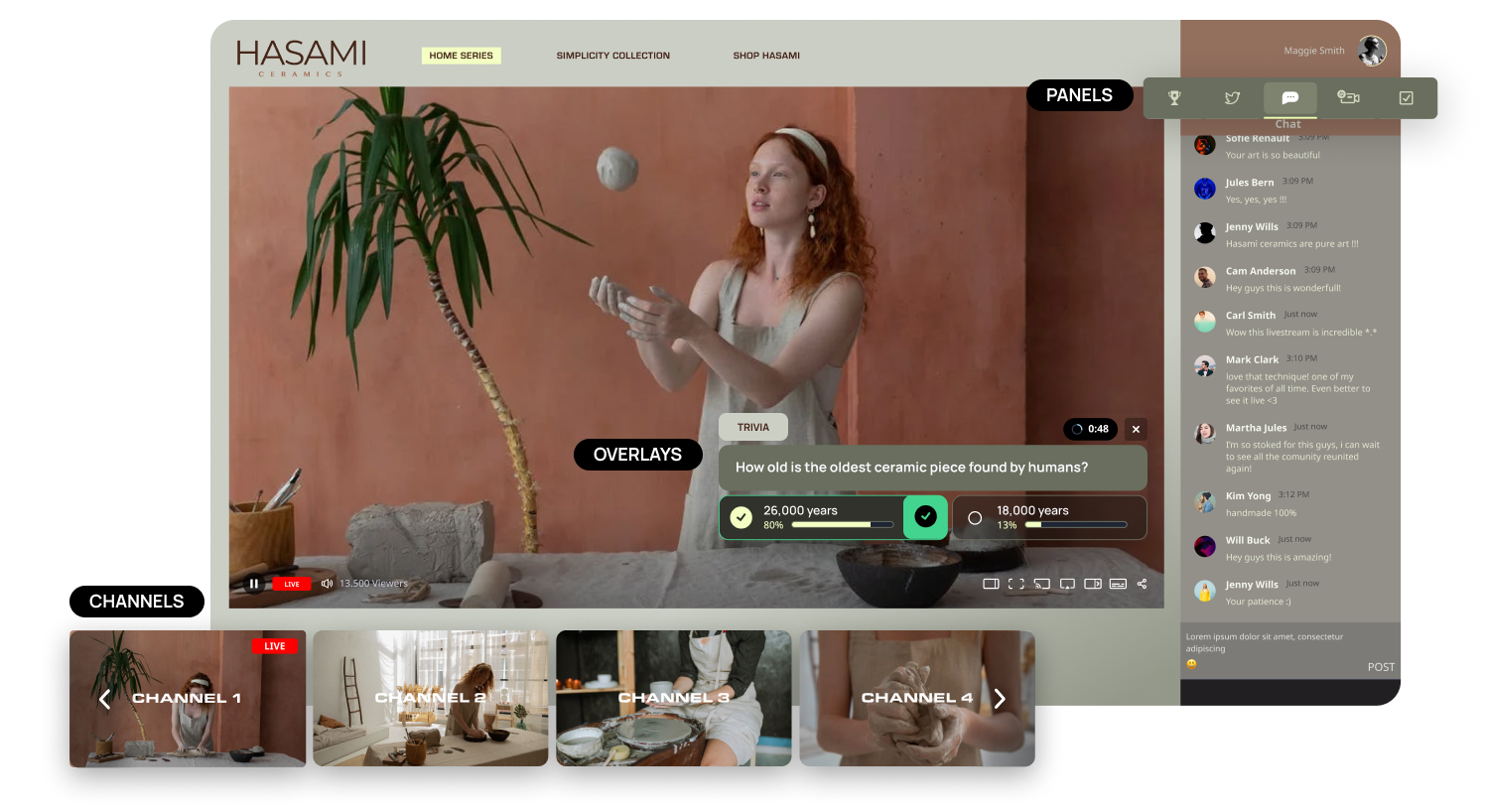 Ready to start streaming with one of the most powerful video CMS options available? Maestro is here for you!
Easily organize your content, and create beautiful video streaming websites with a few clicks. Host live stream events or upload your prerecorded content for on-demand viewing. Generate revenue from these premium streaming experiences with a wide variety of monetization tools.
Sign up for Maestro to get started in no time.
Join our Discord server for more helpful tips and tricks!
Share