Online Video Streaming Glossary: 50+ Streaming Terms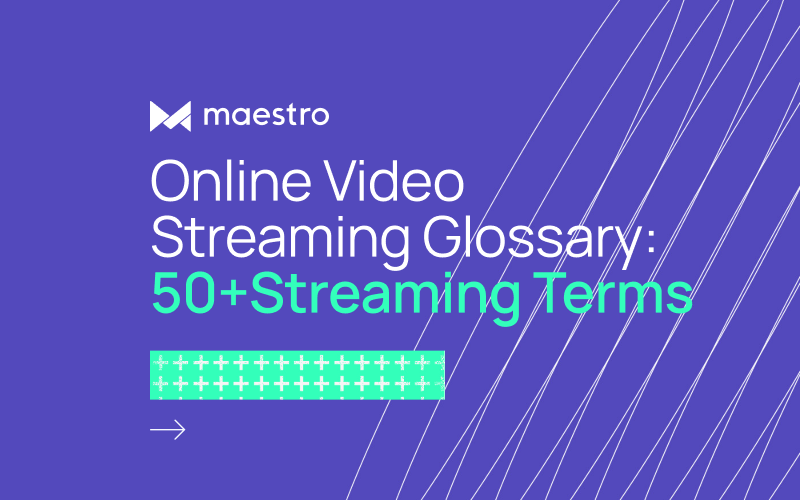 Online streaming is more accessible than ever thanks to a variety of physical and digital tools. However, there's a lot of jargon in the streaming industry that can make it intimidating for creators who just want to get started. That's why we've compiled a list of over 50 streaming terms to provide some clarity for creators who are ready to start streaming.
Online Streaming Terms that Creators Need to Know
4K streaming: Currently the highest resolution streaming supported by most online streaming setups; 4K streaming usually signifies a resolution of 3840 × 2160 or 4096 × 2160
Adaptive streaming: The use of a flexible streaming technology that adjusts the video delivery based on the users' internet connections to provide high-quality video to users with different internet speeds; incorporates the use of multi-bitrates streaming, adaptive streaming video players, and adaptive streaming protocols.
Analytics: Metrics that provide information on the quantitative performance of a video or channel
Aspect ratio: The ratio between the width and the height of videos in pixels; the most popular aspect ratios are 16:9 and 9:16, but some video players and devices support 1:1 or 4:3, as well
Audio mixer: Technology used to combine and balance different sounds to produce a seamless audio stream; available in hardware and software forms
B-roll: Secondary footage that showcases background elements to create a more engaging and professional-looking stream
Bandwidth: The capacity of data that can be transferred
Bitrate: A measure of the amount of data that can be transferred at one time
Bonding: A technique used to merge the bandwidth of multiple internet connections; especially popular in remote streaming setups where one internet connection is not sufficient
Buffering: The result of a video progressing faster than it downloaded; typically caused by insignificant internet speeds relative to the file size
Capture card: An input device that transports video from the capture device to the streaming platform, encoder, or streaming software
Capture device: Tools for capturing elements of a stream, including various types of cameras and microphones
CDN: Short for "content delivery network"; a collection of servers that delivers online video from the streamer to video players around the world
Channel: The digital real estate where viewers can access your live streams and VOD content
Chroma key: The technology that makes it possible to change the background of a video with a green screen or blue screen
Closed caption: Text that is placed on videos to match the words and sounds that are playing in the clip; these are used to improve the accessibility of videos and make it easier for viewers to follow along with minimal or no audio
CTA: Short for "call to action"; a marketing technique that includes strategic messaging to urge viewers to take a specific action
Download speed: A measure of internet speed that assesses how much data can be downloaded over a specific period of time; typically measured in megabits per second (Mbps)
Encoding: The process of converting video from the RAW file captured by the camera to streamable digital files; can be carried out with a hardware or software encoder; some popular encoders include Mux, OBS, Teradek, vMix, and TriCaster
Firewall: A security mechanism that blocks the digital entrance or access of unauthorized users
High-definition streaming: Commonly referred to as "HD streaming"; streaming with a resolution of 720p to 1080p; videos with resolutions higher than 1080p could also be considered "HD" but they may be referred to by other names, such as Ultra-HD or 4K
HLS: Short for "HTTPS Live Streaming"; a streaming protocol that was designed by Apple to deliver content to the HTML5 video player; can be used for both delivery and ingest
HTML5 video player: A highly customizable video player used for online streaming that has virtually universal compatibility
IPTV: Short for "Internet Protocol television"; streaming among IP networks; typically used for internal networks
Latency: The time between a live stream is captured and the time it reaches the video players on viewers' devices
Lighting equipment: Tools that are used to improve the quality of video by providing adequate lighting; range from simple ring lights to studio flash kits
Linear streaming: Continuous streaming with either live or pre-recorded content over an extended period of time structured similarly to traditional television stations
Live shopping: Selling in real-time via live streams; uses strategic CTAs to urge viewers to buy a product showcased in a live stream
Live streaming: Broadcasting video content as it is captured in real-time over the internet
Low-latency streaming: Streaming with a latency under 20-30 seconds
Lower third: Graphic overlays that are placed along the bottom portion of the video player
Multistreaming: Simultaneously streaming to multiple destinations from a single source; also called "simulcasting" or "multi-destination streaming"
OTT: Short of "over-the-top" streaming; a streaming delivery method that is powered by the internet rather than older streaming methods, such as cable or satellite
Overlays: Contextual graphics and information that are added to video content; popular overlays on Maestro include graphics, tweets, Shopify links, and polls
Paywall: A screen that prevents users from viewing the video content until they've paid or provided the required credentials; at Maestro, paywalls are a type of "Gate"
Picture-in-picture: Often referred to as "PiP"; a streaming technique that displays a video within the frame of another video
Playlists: Curated collections of media that are typically used for organization; could include video, songs, podcasts, and other video and audio files
RTMP: Short for "Real-Time Messaging Protocol"; a streaming protocol that was used to deliver video to the Adobe Flash player; it is now used to ingest video content to the streaming platform
Standard-Definition streaming: Commonly referred to as "SD streaming"; streaming with a resolution of around 576p; used to be the standard video resolution
Social streaming platform: Consumer-grade sites that offer online video streaming with a social element; some popular examples include Twitch, YouTube, and Facebook
Stream URL / Stream Key: Credentials used to connect streaming platforms to encoders, social streaming platforms, and other streaming software
Streaming platform: Powerful technology is used to host, manage, and deliver online video content; Maestro is an example of a streaming platform
Streaming protocol: Technology that transports video signals and aids in communication between different components of the streaming workflow
Streaming software: Any digital applications and programs that are used to support the streaming process, whether it be for production, encoding, mixing, multistreaming, or any other relevant function
Streaming workflow: Your streaming setup, which could include a streaming platform, capture devices, encoders, streaming production software, and a variety of other tools
Switcher: Technology that allows broadcasters to seamlessly switch between sources midstream
Transcoding: The process of creating multiple renditions (or versions) of a video file in different bitrates for adaptive streaming
Ultra-low latency streaming: Streaming with latency under 3-10 seconds
Upload speed: A measure of internet speed that assesses how much data can be uploaded over a specific period of time; typically measured in megabits per second (Mbps)
Video embedding: Inserting a video player into a page where it is not natively hosting; typically done by adding a video player's share code to a webpage, app, or email
Video monetization: Generating revenue on online video content via sponsored ads, pay-per-view ticketing, and subscriptions
Ticketing: One-time purchase that gives viewers access to a specific event
Sponsors: Brands that pay for promotion on your channel or in your videos
Subscriptions: Recurring payment that allows viewers to consume as much VOD or live content on your channel as they'd like
Video player: The interactive technology that allows viewers to access video content on their internet-enabled devices; HTML5 is currently the only widely supported video player technology
Video resolution: The dimensions of a video in pixels; measured as width by height (example: 1280 x 720 or 1920 x 1080); often denoted by the height only (example: 720p or 1080p)
Video Security: Tools that protect your video streams from unwanted viewers, hackers, and pirates
VOD: Short for "video on demand"; a type of online video streaming that allows viewers to access video for on-demand viewing
White-label streaming: Streaming with no branding from the video streaming platform; only includes your own branding
Share