What is Shoppable Video?: Benefits, Tutorials & More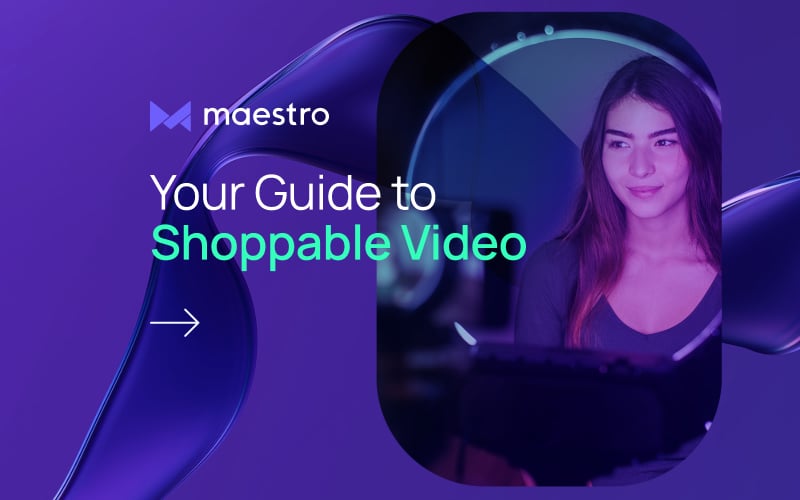 Shoppable video is a marketing technique that helps get products in front of potential customers. It adds a lifelike dimension to e-commerce that is lost with static online storefronts.
This technique is becoming popular in many retail use cases, ranging from general e-commerce stores to merch shops during concerts.
In this article, we'll discuss everything you need to know about shoppable video. We'll start by discussing what shoppable video is and its benefits before diving into some actionable tips for setting up shoppable video experiences on your website.
Table of Contents
What is Shoppable Video?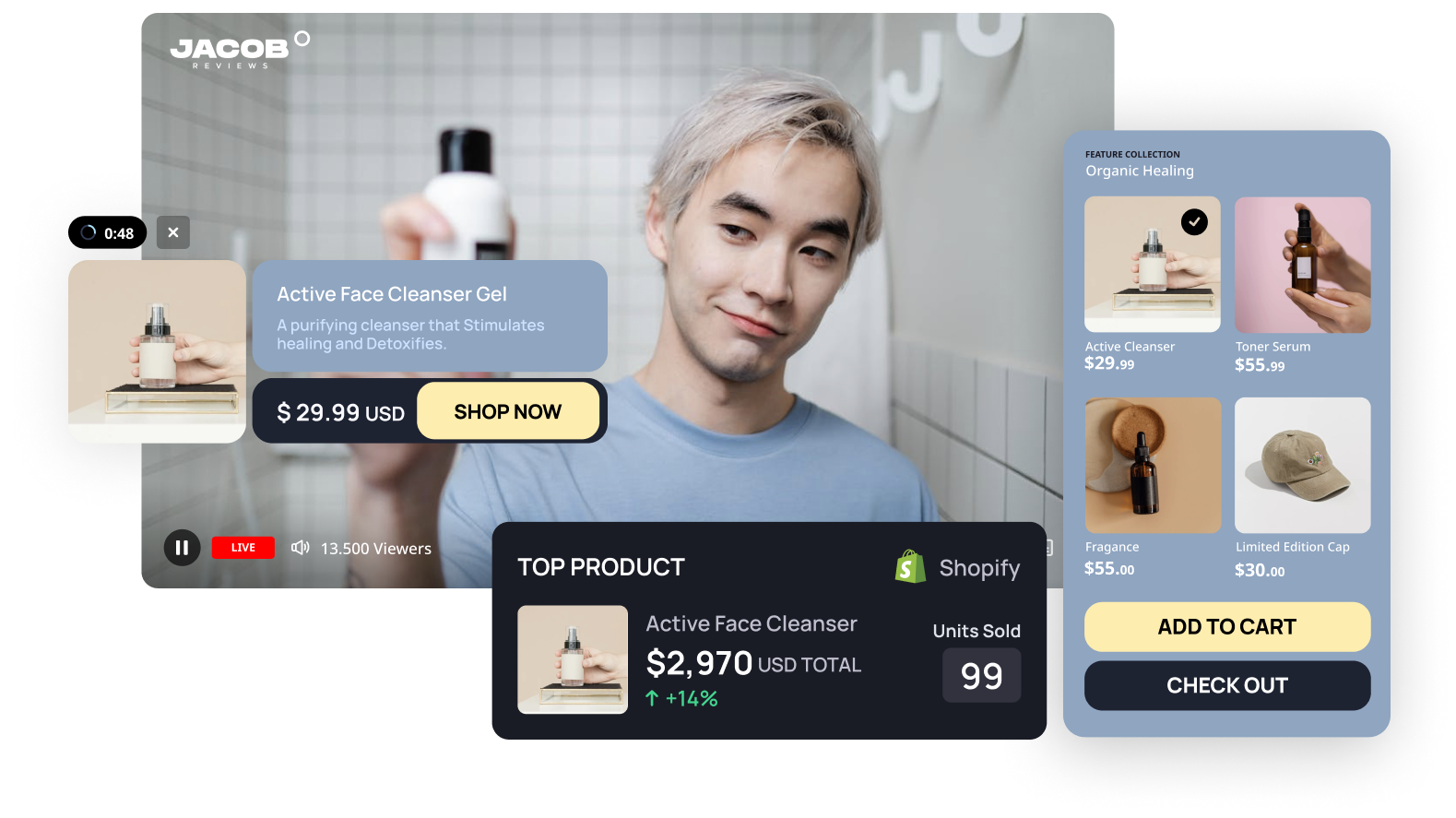 Shoppable video is a newer form of video commerce that allows viewers to interact with products and purchase them directly from the video. It combines the power of video content with e-commerce functionality, making it possible for consumers to watch a video and buy products at the same time.
In shoppable videos, viewers can click on products within the video and be redirected to the product page, where they can complete the purchase. With some shoppable video platforms, like Maestro, the checkout flow actually takes place in-stream. This allows viewers to shop without ever leaving the stream.
This technology is transforming how people shop online and has proved to be a powerful tool for businesses to increase sales and improve customer engagement.
History of Shoppable Video
Shoppable video is a relatively new concept, but it has been gaining popularity recently. The idea of shoppable video first emerged in the early 2010s, when brands started experimenting with adding clickable links to their videos.
However, it wasn't until the development of advanced video technologies that shoppable video became a reality. In 2015, YouTube introduced interactive cards, which allowed creators to add clickable links to their videos. This paved the way for the development of shoppable video platforms, which combine video content with e-commerce functionality to create a seamless shopping experience for viewers.
These seamless shopping experiences became all the hype across Asia as large companies, such as the Alibaba Group, began leveraging it for wholesale and retail initiatives. It has since spread through the Western world.
Today, shoppable video is a powerful tool for businesses to increase sales and improve customer engagement, and it is rapidly becoming an essential part of the e-commerce landscape.
Shoppable Video vs. Live Shopping
While we're on the topic of shoppable video, it's essential to clear up the differences between this e-commerce technique and live shopping.
Shoppable video and live shopping are nearly the same, and they are powered by very similar technology. The key difference is that live shopping uses live streaming, and shoppable video can be either live or on-demand.
Live shopping is currently more popular, but offline shoppable video experiences are growing in popularity, as well.
Benefits of Shoppable Video
Shoppable video has several benefits, including improved customer engagement, increased revenue, and better product understanding. Let's take a minute to explore each of these perks.
Improved Customer Engagement
Think about the average online shopping experience. It lacks a personal touch. However, shoppable video provides a great way to supercharge your customer engagement.
When a member of your team or a brand ambassador hosts a shoppable video experience, they take the role of a sales representative. This mimics the role of somebody working the floor at a brick-and-mortar store. Having someone present products creates a more lifelike experience that helps to engage viewers.
Increased Sales and Revenue
With improved engagement comes a boost in sales and revenue. In fact, over 40% of shoppable video viewers click "Add to Cart" while watching the stream.
This positive outcome is what drives many businesses to lean into shoppable video, whether they are selling products of their own or leaning into affiliate marketing.
Better Product Understanding
Shoppable video provides a great way to give customers more information about your products. It allows you to demonstrate how products are used and display them with more dimension than a static image.
For example, selling clothing in-stream is particularly great since it allows the seller to model the clothing while describing the fit and sizing.
How to Create Shoppable Video Experiences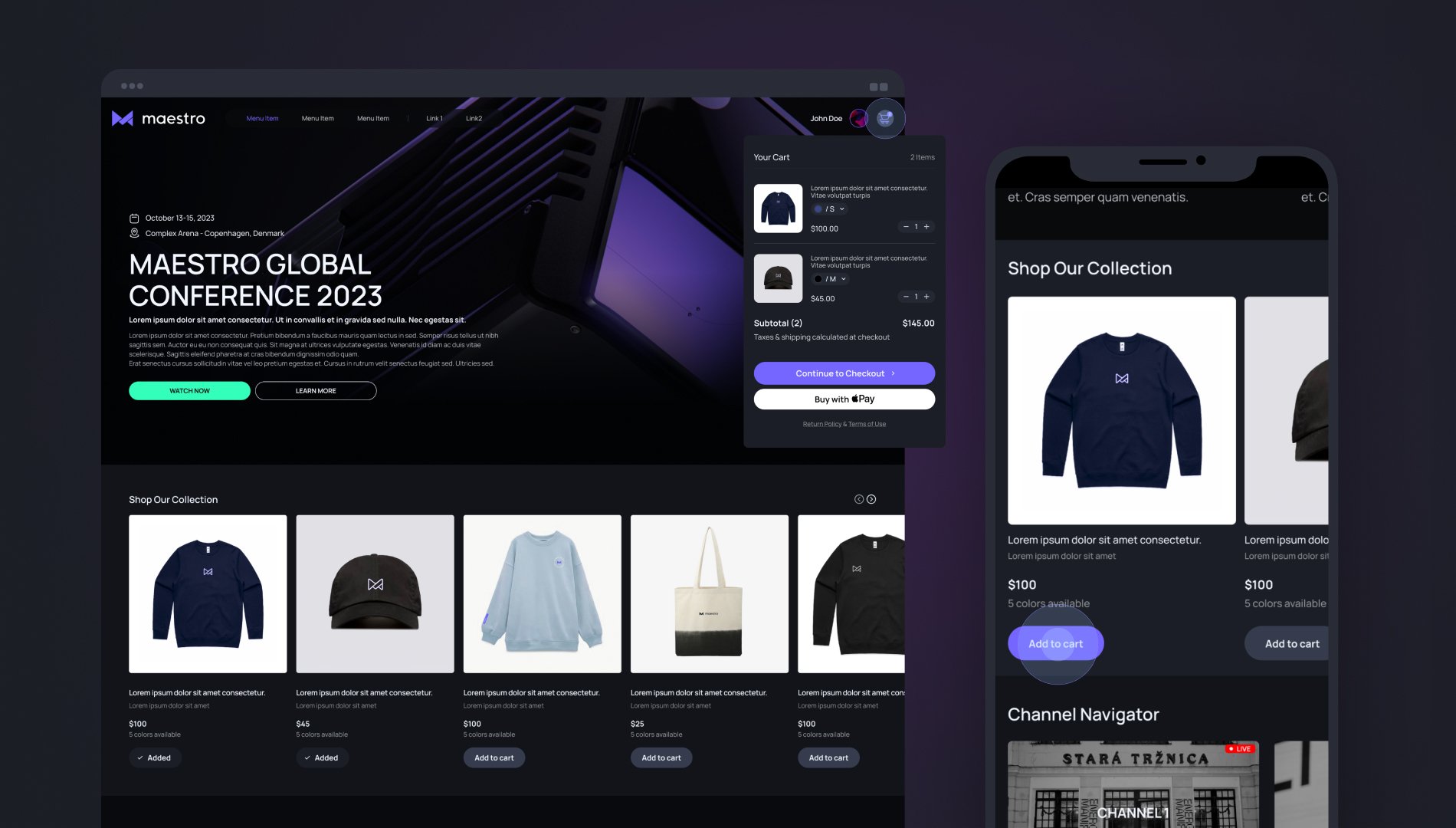 Creating shoppable video experiences is made easy with the support of the right tech. Here is what this process looks like:
Determine the products you want to feature in the video and the messaging you want to convey
Choose a shoppable video platform that fits your needs and budget
Create a storyboard for your video, outlining the shots, angles, and transitions you want to include
Film and edit your video, making sure to highlight the products you want to feature
Add clickable links to the video, directing viewers to the product pages on your website
Publish and promote your shoppable video on social media, email marketing campaigns, and other channels to drive traffic and sales
5 Shoppable Video Platforms
The platform you choose to support your shoppable video experiences plays a huge role in determining the success of your efforts. With that said, here's a list of some popular shoppable video platforms:
Maestro
Smartzer
Bambuser
Spott.ai
Clicktivated
Each of these platforms offers unique features and pricing options, so it's important to evaluate your needs and budget before choosing the right one for your business.
Create Shoppable Video Experiences on Maestro

Shoppable video experiences can come in handy for brands and creators in a variety of industries. With the support of a shoppable video platform like Maestro, it's easier than ever to create in-stream shopping experiences.
Are you ready to create shoppable video experiences on Maestro? Sign up today to get started for free.
Join our Discord server for more helpful tips and tricks!
Share