The Ultimate Guide to the Secure Reliable Transport (SRT) Protocol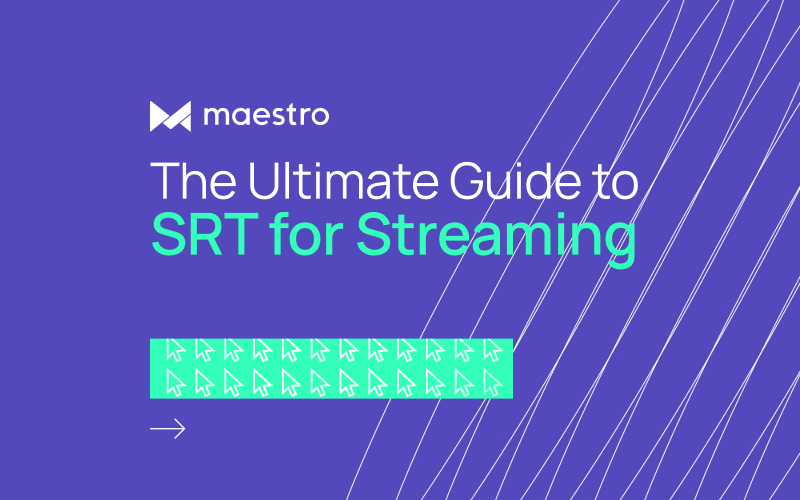 In the past couple of years, streaming technology has developed at a rapid pace. Latency has become lower, and quality has become higher. Even though the technology is becoming more advanced on the back end, it's simultaneously become more accessible to users with any level of experience.
SRT is a newer protocol streaming that helps to facilitate this enhanced streaming experience. It comes with a slew of benefits that enhance the streaming experience for those who use it in their setups.
In this article, we'll discuss all things SRT. We'll start by discussing what SRT is and what it brings to the table. We will also review a few other relevant streaming protocols and compare them to SRT. To wrap things up, we'll discuss real-time streaming on Maestro.
Table of Contents
What is SRT?
Secure Reliable Transport (SRT) is a streaming protocol that was designed for more efficient streaming. It helps to facilitate higher-quality streams that remain secure and buffer-free over just about any internet connection.
SRT was created by Haivision in 2012. Although it's been around for over a decade, it has only recently risen in prominence.
This protocol has continued to have been developed by a group of tech companies that have banded together to form the "SRT Alliance." This alliance consists of Haivision, Advisory Members, Ambassador Members, and Platinum Members. Several of Maestro's partners are part of the SRT Alliance, including Dolby.io, Wowza, JW Player, and Brightcove.
Haivision was given an Emmy® Award for Technology and Engineering for the creation of this powerful streaming protocol.
4 Benefits of SRT
SRT provides four distinct benefits for streamers, including low latency, secure streaming, open-source access, and stellar video quality. Let's explore each of these benefits a little more closely.
1. Low Latency
SRT is known for its low latency. It allows brands and creators to get as close to completely removing latency as possible.
If you're not familiar, latency is the amount of time between when a stream is captured and when it reaches the video player on viewers' devices. In most live streaming use cases, lower latency is preferred over higher latency.
Some streaming technology, including Dolby.io, uses SRT to achieve real-time streaming. This is powerful for creating streams that are lifelike and capable of facilitating real-time engagement between viewers.
2. Secure Streaming
As the name suggests, SRT is very secure. Streaming with SRT provides end-to-end 128/256-bit AES encryption. This makes it a great option if you're streaming sensitive content or if you're streaming over a network that may not be secure.
Some specific situations where secure streaming comes in handy include government live streaming, medical live streaming, and some enterprise use cases.
3. Open Source
SRT is an open-source protocol. This means that the technology can be easily incorporated into other streaming technology. When implemented in other setups, the technology can be customized to meet the user's needs.
Since SRT is open source, it is completely free to use, which makes real-time streaming accessible to more broadcasters.
SRT is also content agnostic, which means that it is capable of transporting a variety of video formats. It is also compatible with different frame rates, resolutions, codecs, and so forth.
4. Top Notch Video Quality
Last but not least, SRT is capable of streaming high-quality video over any sort of internet connection. It is built to adjust to network disruptions to get your video from the source to the video player without any disruptions or buffering, even when connection issues occur.
Other Streaming Protocols
While we're on the topic of SRT, it's important to review a few other relevant protocols so you can develop a better understanding of how SRT compares to the rest. These include RTMP, HLS, and WebRTC.
RTMP, which is short for Real-Time Messaging Protocol, is a video protocol that used to be used to deliver video content to Adobe's Flash player. Since this video player has died out, the role of RTMP has shifted to ingesting to the encoder. As we discussed, SRT is open-source and content agnostic, so it is a much more compatible alternative to RTMP.
HLS, which is short for HTTPS Live Streaming, is a protocol that has replaced RTMP for stream delivery. It is more compatible than RTMP, but it has issues with latency. SRT, on the other hand, provides a lower-latency alternative to HLS.
WebRTC is not exactly a streaming protocol, but it is an open-source streaming project that is worth discussing alongside SRT. This streaming project was designed to facilitate real-time streaming for video conferencing. From the real-time streaming perspective, this project is most comparable to SRT.
Real-Time Streaming on Maestro

Thanks to our partnership with Dolby.io, Maestro is capable of real-time live streaming. With the support of SRT, this integration enables Maestro users to stream with sub-500ms latency.
In addition to real-time streaming, Maestro offers a plethora of other tools that brands and creators need to live stream like a pro. These tools include video monetization, interactivity, brand customization, video website building, and more.
Interested in streaming on Maestro? Sign up for free to start streaming in no time at all.
Join our Discord server to learn how other brands and creators are using Maestro to host virtual events.
Share