Resi Review: Features, Pros and Cons, Pricing, and More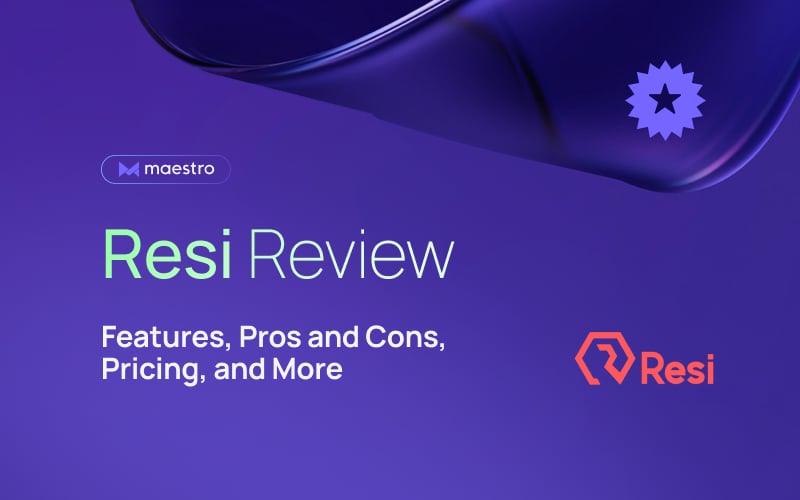 If you're considering using Resi to host your streaming experiences, it's important to understand exactly what the platform brings to the table. While Resi is a powerful solution, it does have a few blind spots that you should be aware of.
In this blog post, we'll explore Resi's key features, use cases, pricing, and more. We'll also compare it to Maestro, another popular video streaming platform, to help you make an informed decision.
Table of Contents
What is Resi?
Resi is a cloud-based video streaming platform that allows you to broadcast live and pre-recorded video content to your audience. It's designed to be user-friendly and scalable, making it an ideal solution for businesses, churches, and other organizations that need to stream video content regularly.
One of the most remarkable things about Resi is that they use RSP, a special streaming protocol, to ensure reliable streaming. Using this protocol, Resi is able to ensure that video and audio quality is kept intact.
Resi's Key Features
Customizable player: With Resi, you can customize the player to match your brand's look and feel. You can also add interactive elements like polls, quizzes, and calls to action to engage your audience.
Multi-bitrate streaming: Resi supports multi-bitrate streaming, which means your viewers can adjust the video quality based on their internet connection, ensuring a smooth viewing experience.
Analytics: Resi's analytics dashboard lets you track key metrics like viewer engagement, retention, and more. You can use this data to optimize your content and improve your ROI.
Resilient Streaming Protocol: Resi uses RSP, which is a robust streaming protocol that is designed to prevent quality loss for both audio and video.
Subtitles: Resi uses automated subtitles to make streams more accessible.
Resi Use Cases
Resi can be used in various ways, but religious organizations, educational institutions, sports networks, and businesses are among Resi's top users. Event streaming is also extremely popular on Resi.
Resi Pricing
Resi offers custom pricing. The purpose of custom pricing is to ensure that each user has a streaming package catered to their unique needs.
Interested users must submit a form to get a quote.
Pros and Cons of Resi
Pros

Cons

User-friendly interface
Customizable player
Multi-bitrate streaming
Analytics dashboard
Great customer support

Higher pricing compared to some competitors
Not much transparency with pricing (since plans are custom)
Limited customization options for the platform's appearance (aside from player)
Resi vs. Maestro for Video Streaming
| | | |
| --- | --- | --- |
| | Maestro | Resi |
| Pricing | Straightforward pricing plans | Custom pricing only |
| Functionality | OTT live streaming, video hosting, flexible video monetization, video website building, community management, data and analytics, and more | Live streaming and on-demand hosting |
| Strengths | End-to-end video hosting (including monetization) | Reliable streaming |
| Monetization Tools | Ticketing, subscriptions, tipping, ticket & merch bundles, and live commerce | Does not support monetization |
| Interactivity Tools | Clickable overlays, chat, customizable panels, polls CTAs, and more | Does not support interactivity |
| Video Website Building | Easily customizable drag-and-drop video website builder | Does not support video website building |
| Revenue Sharing | Users keep up to 100% of the revenue earned on tickets and subscriptions | n/a |
The Bottom Line
Resi is an excellent choice for organizations that need a basic video streaming platform. Resi's customizable player, multi-bitrate streaming, and analytics dashboard are valuable, but the platform poses serious limitations regarding monetization and interactivity.
If you're looking for an alternative to Resi that offers robust monetization, interactivity, and video website building, Maestro could be the solution for you.
You can start streaming on Maestro for free to see how our solution will work for you. Sign up today to get started in no time at all!
Join our Discord server to learn more tips and tricks for streaming on Maestro.
Share