12 Best Private Hosting Platforms for Businesses in 2023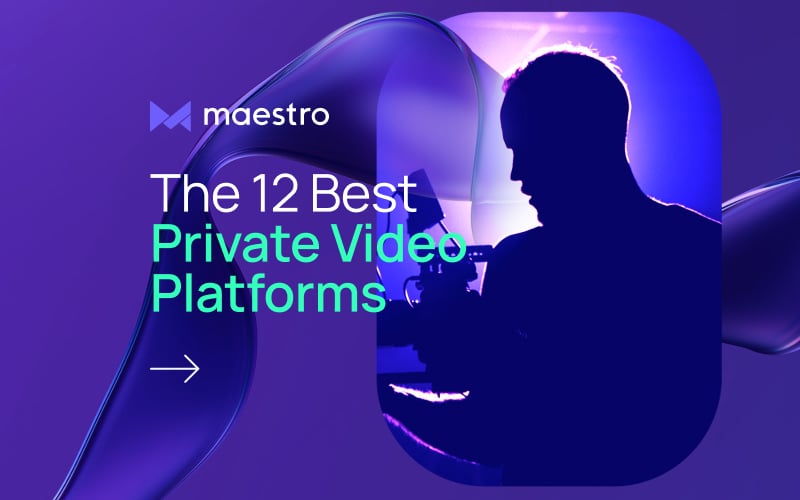 There are countless benefits to having a strong video content strategy for your business these days. Whether your goal is sales growth, brand awareness, or even extra revenue for your bottom line, video is a key lever you can pull to get incredible results!
However, the tool you use for the job can make all the difference. In this guide, we'll share 12 of the best private video hosting platforms today, so you can pick the best one for your business. Let's dive in!
Table of Contents
What is a Private Video Hosting Platform?
To understand what a private video hosting platform is, we first need to define a video hosting platform in general. Think of it as a place where you can upload and store or stream your video content online, making it easy for others to find and watch it.
Now, there are two primary types of video hosting platforms: public and private. You're likely already familiar with popular public video hosts, such as YouTube, Vimeo, and even Facebook. These are all free to use at some level but come with a number of restrictions on important features like monetization, branding, and control over essential aspects of your videos.
Why is Private Video Hosting Important?
If you want your videos to generate more revenue, bring traffic to your website, or drive sales of your products and services, then you should find a private video hosting platform with features that will reinforce your video content strategy.
Private video hosting platforms generally feature indispensable tools for delivering and monetizing your video content in a professional way, including both video-on-demand (VOD) and live streaming.
If video is important to your business, then you should know why it's worth investing in a private video hosting platform. Here are some of the most important features to keep in mind:
Video performance: When you go with a private video host, you can expect superior playback and video fidelity with your video content than you'd get with a free host.
Personalized branding: Put together your own custom video player or even a full-fledged branded website.
Comprehensive analytics: Dive deeper into key metrics like watch time, viewer engagement, community interaction, and revenue features.
Revenue streams: Private video hosting platforms open up an array of monetization tools that you won't get with free hosts. In addition to ad revenue, these may include pay-per-view tickets, subscriptions, live shopping, and tipping.
12 Best Private Video Hosting Platforms: A Comparison
Now, with these valuable features in mind, it's time to take a look at private video hosting platforms that will enable the best viewing experiences for your audience – and higher revenue for your business!
1. Maestro

Maestro is a comprehensive private video hosting platform solution for brands and content creators looking for total control over their content, viewership, and earnings.
With Maestro, you can easily set up a custom-branded site for everything from on-demand videos to live streams. Plus, it's also easy to generate revenue with a wide range of flexible monetization tools.
Many recognizable names in the world of sports, gaming, and music have relied on Maestro's platform to host and monetize their videos, including the Golden State Warriors, Billie Eilish, and even Apple.
Top Features
Rich analytics
Personalized branding
Plenty of revenue-generation features (including tipping, ticketing/subscriptions, and

live shopping

)
Community management
Pricing
Maestro offers three primary pricing plans and one custom option, depending on where you're at in your business:
Start: Free forever
Growth: $19/month
Scale: $99/month
Custom: Let's talk
Note that there's a revenue split for monetization on the lower-tier plans, which keeps Maestro affordable for all brands and creators who want to take an active role in their video content strategy.
Want to give Maestro a try for yourself?
2. Brightcove
Brightcove is a well-known OTT streaming solution mostly built for larger enterprises aiming to captivate their audiences through streaming for marketing, communication, and beyond. Brightcove also features some of the latest media monetization options in the space.
Top Features
White-label streaming
Quality tools for engagement and analytics
Robust options for revenue generation (ads, subscriptions, and additional opportunities with available integrations!)
Pricing
Brightcove doesn't have publicly accessible prices on its website, so if you want to know more about its available pricing plans, contact Brightcove directly to get a custom quote.
3. JW Player
JW Player bills itself as the "#1 video platform for video-driven companies." This private video host has been in business for more than 20 years, with the distinction of deploying the original embeddable web player back in 2004.
Now, JW Player provides robust content management features, along with a quality video player. They might be a good fit for you if you're a broadcaster, publisher, or other SME business.
Top Features
Quality video player
Customizable APIs
Monetization built-in, with ad integrations to extend options
Robust tools for engagement and analytics
Pricing
JW Player is only available with a custom quote – learn more on their pricing page. You can get access to a 30-day limited free trial of JW Player, however.
4. Dacast
Dacast is a private video hosting platform for businesses. Its biggest claim to fame is an embeddable video player that you can deploy for white-label streaming and professional broadcasting. With that said, Dacast also features video-on-demand (VOD) hosting and monetization.
Top Features
Secure white-label streaming
Embeddable video player
Personalized branding
Multiple monetization options (including pay-per-view, ads, and subscriptions)
Pricing
Dacast has an easy-to-understand pricing structure featuring three primary plans and one custom plan:
Starter: $39/month
Event: $63/month
Scale: 165/month
Custom: Contact for custom pricing
These prices are based on getting the available discount for their annual plan. Everything but the Custom plan allows you to test drive Dacast with a 14-day free trial.
5. Wowza
Wowza is a live stream and OTT technology company with a variety of video-based products and services. Their flagship offering is Wowza Video, a popular OTT streaming platform that comes with different pricing plans for enterprise customers.
Top Features
Adaptive bitrate streaming
Video CMS
360 streaming
Analytics and engagement tools
Pricing
Wowza has two major solutions: one focuses on the use of its hosted video platform, and the other focuses on the use of its streaming engine with your own on-premises software. Wowza Video pricing includes:
One Month of Streaming: $149 one-time purchase for live streaming event
Pay As You Go: $25/month
Enterprise: Custom pricing
6. Kaltura
Kaltura is an open-source private video host, and its mission is "to power any video experience." The company specializes in education and a clientele of educational institutions. It supports common content formats for online education initiatives like webinars and virtual events.
Top Features
White-label live streaming with recording
Video CMS and LMS for education use cases
Strong VOD hosting
Customization options via APIs and SDKs
Pricing
Kaltura's pricing is based on its nine main use cases. The pricing flexibility is actually one of Kaltura's biggest benefits, but here's what they mention on their website:
7. Muvi
Muvi is a versatile video platform with a range of different focuses and use cases for enterprise-level customers.
The premier Muvi experience is Muvi One, which combines all of its features into one fully-featured package that supports the building of a custom white-labeled website or streaming app in the vein of Netflix or Udemy. It also features a CDN.
Top Features
Smart TV app building/support for UGC
CDN included
Monetization options (subscriptions, ticketing, pay-per-view, ads, and live commerce)
Live commerce
Pricing
Muvi features a range of pricing plans based on its different feature sets – including live streaming, video player, and flex – but the primary pricing page called Muvi One has the following price points:
Standard: $399/month
Professional: $1499/month
Enterprise: $3900/month
Ultimate: Ask Sales
One of the biggest benefits of the Muvi One plan is that businesses will keep 100% of the revenue they generate from their video content. Muvi's other three plans include optional free trials. You can get an additional 15% discount by purchasing an annual plan.
8. VPlayed
Owned by Contus Tech, VPlayed is a leading online video hosting platform that provides tools for hosting, distributing, and monetizing video content across web, mobile, and smart TV devices. It's primarily built for broadcasters, publishers, and content creators who want to manage their own global OTT platform.
Top Features
Rapid deployment and implementation
100% customizable with 500+ streaming features
Maximum ROI with 9+ monetization models
Pricing
Vplayed doesn't have public pricing, so you'll have to contact Sales to learn more.
9. Livestream
Owned by the popular free video hosting platform Vimeo, Livestream is considered one of the go-to platforms for real-time broadcasting. It comes with a range of intuitive tools for broadcasting, monitoring, and engaging with audiences all over the world.
Top Features
Unlimited live events
Brand control for both video players and apps
Interactivity (live polls, Q&A, audience chat, etc.)
Pricing
Livestream gives you the option of a free 7-day trial or a demo request. Plans include:
Advanced Plan: $65 per seat/month
Enterprise: Custom quote
Vimeo OTT: Custom quote
10. IBM Video Streaming
IBM Video Streaming is a scalable, end-to-end video streaming service that allows you to stream live and manage your recorded video content. This cloud streaming platform includes video hosting, transcoding, multi-platform playout, and analytics.
Top Features
Multiple CDNs
Customizable channel page
Recording of broadcasts
Quality of service player
Pricing
IBM Video Streaming has a wide range of plans running the gamut from small businesses up through large enterprises and frequent streamers:
Free Trial: Free for 30 days
Silver: $129/month
Gold: $649/month
Platinum: $1299/month
Custom: Contact for a custom quote

11. Vidyard
Vidyard is a bit different as a video platform, with a focus on sales professionals looking to create and share personalized videos with prospects. It's powered by AI and designed to boost reply rates. Ultimately, Vidyard helps your company use video to shorten the deal cycle and guide buyers to purchase faster and more effectively.
Top Features
Sales script writing powered by AI
Includes ready-to-record video templates
Emphasis on data security with SOCII certification and GDPR compliance
Wide range of video analytics and insights
Pricing
Vidyard allows you to get started for free, and also has higher-tier plans for more sophisticated features and full sales teams:
Free: No credit card is required
Pro: $19/month
Business: Talk to Sales
12. Cincopa
Founded in 2006, Cincopa is a bit more of a niche private video hosting platform with a focus on image and podcast video hosting. It's great for enterprises, content publishers, and online course creators. The company's mission is to provide businesses with the advanced capabilities to market, teach, and engage through the use of video, images, and audio – and they've worked with organizations like Pfizer, Dell, and CNN.
Top Features
On-demand and live streaming
Built-in analytics and heatmaps
Rich annotation CTAs and forms
Centralized video, image, and audio asset management
Pricing
Cincopa has several plans available for a range of businesses:
Free Trial: Free for 30 days
Plus: $25/month
Corporate: $99/month
Enterprise: $350/month
Custom Enterprise: Contact for a custom quote
Host Your Videos on Maestro
We hope this list has helped you get to know more about the market of video hosting platforms. Ultimately, whatever your goals are for a private video hosting site, chances are good you'll be able to get what you're looking for out of Maestro.
Maestro strikes the perfect balance between the versatility and power of an enterprise-level video platform but at a much greater value that's great for both brands and solopreneurs. Our private video hosting platform allows you to create interactive video experiences, monetize your videos, and even build a unique branded site for your live and on-demand videos.
Are you ready to publish and monetize your own high-quality videos on Maestro? Sign up today to get started for free.
Join our Discord server for more helpful tips and tricks!
Share