How to Monetize Interactive Video with Maestro & Mux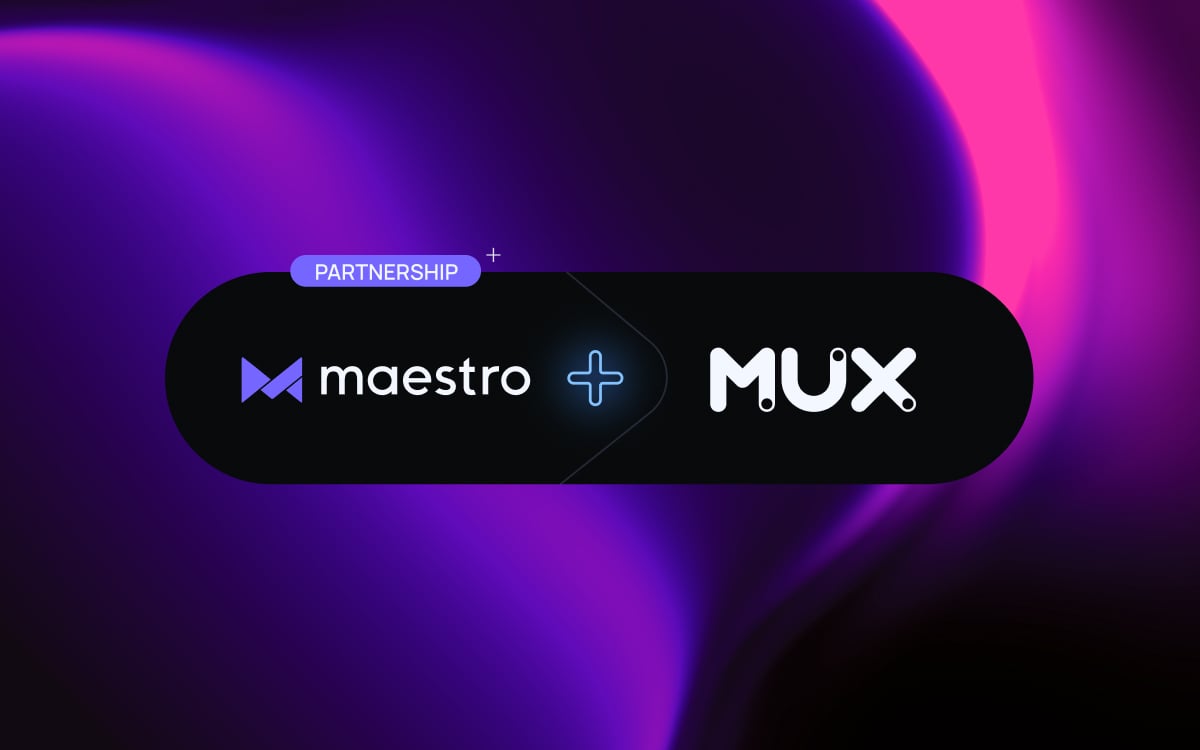 Growing your business with interactive video requires two key components: a sleek front end that creates an engaging user experience and a powerful backend capable of supporting streams at scale.
Maestro and Mux have come together to package these two components in one easy-to-use solution.
In this article, we'll discuss how the Maestro x Mux partnership makes it possible to create and monetize interactive video experiences. We'll cover five ways to monetize video with Maestro before wrapping things up with a look at a few tools for creating interactive streams.
Maestro x Mux: The Basics
Maestro and Mux come together to provide the power and scale of one of the world's largest streaming platforms with the tools you need to engage your audience and make more money.
Mux brings its robust streaming infrastructure to ensure pristine playback quality, and Maestro brings flexible video monetization and audience interaction. Combining these capabilities, you'll have everything you need to foster community, grow your business, and boost your revenue.
Mux is Maestro's default streaming provider, meaning there's no integration necessary for Maestro users who want to access Mux's streaming technology. Mux is available natively in the product for users on all plans, including Maestro's forever free Start plan.
Why Mux?
When it comes to choosing a reliable partner for streaming services, it's important to have an easy-to-integrate solution that works seamlessly. That's where Mux comes in.
Maestro has stuck with Mux for years because they've been a consistent partner from the start, their technology just works, and their support is second to none. They listen carefully to their customers and constantly push the envelope with new features, many of which we have integrated over the years.
Many years ago, we were able to make a quick switch between vendors easily with Mux's dead-simple APIs and helpful documentation. We have yet to encounter any issues with their service ever since, and we love working with their team. That's why we recommend Mux to anyone looking for a reliable solution for streaming services.
How to Monetize Interactive Video with Maestro & Mux
Maestro adds the user experience and monetization layer in the Maestro x Mux partnership. With our technology, you can mix and match five unique monetization methods to activate the revenue-generating strategy that makes the most sense for your brand, audience, and content.
Let's explore these flexible monetization techniques.
Ticketing
Sell tickets to your virtual events with just a couple of clicks. Offer multiple ticket tiers, including VIP experiences, intimate afterparties, meet-and-greets, and more. Plus, easily manage ticket sales in a comprehensive dashboard.
The best part? You keep up to 100% of your ticket revenue.
Subscriptions
Create recurring revenue with a Netflix-style platform by creating a monthly or annual subscription package of on-demand video, live streaming, or a mix of both. Produce your own content or purchase publishing rights content to grow your video library.
Keep up to 100% of your subscription revenue, as well.
Shoppable Video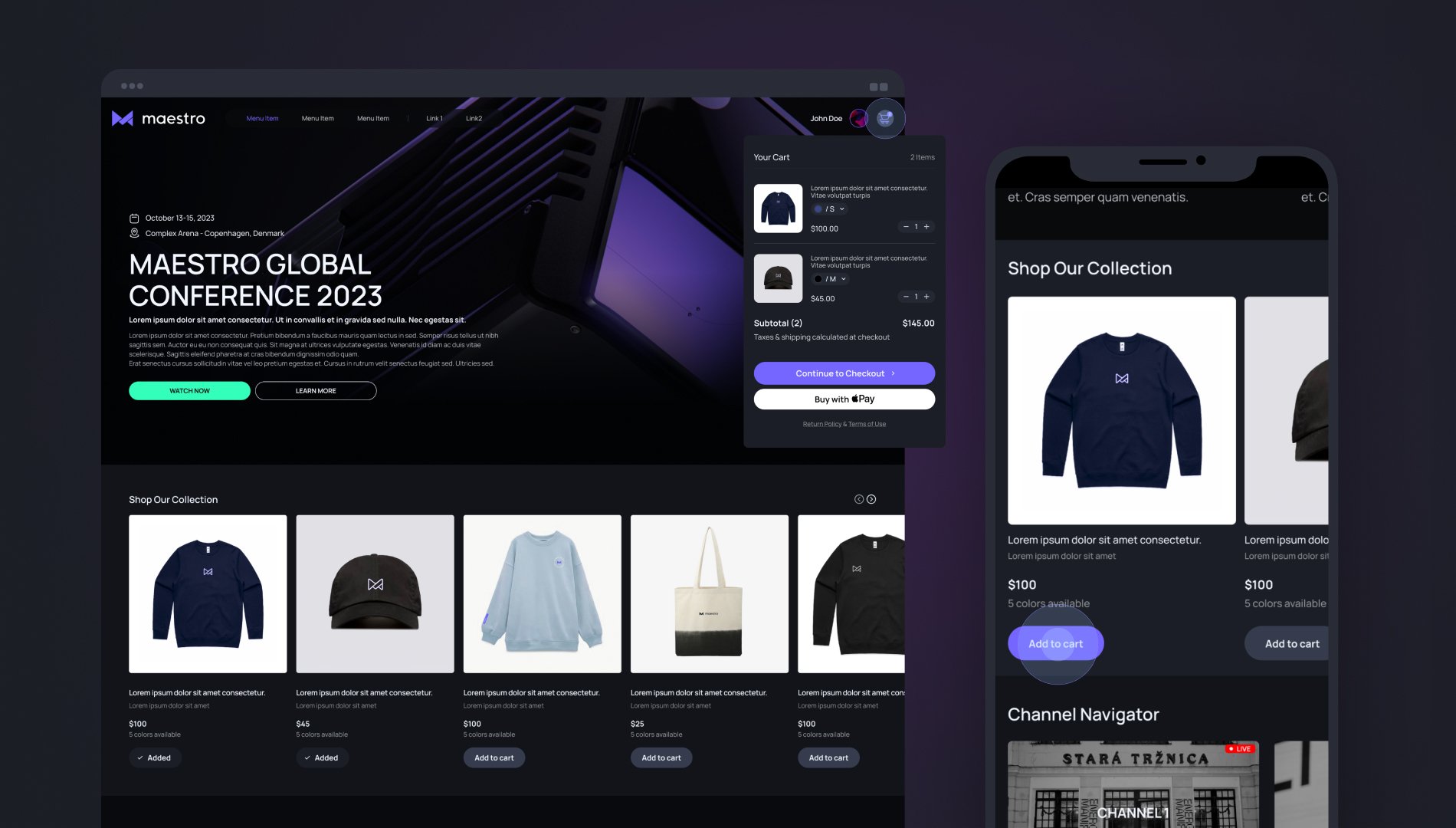 With live shopping, you can sell in-stream with an integrated checkout flow to drive higher conversions and increase sales. You can sell physical products, NFTs, digital services, and more.
This is made possible by our powerful Shopify integration. You can easily connect your Shopify storefront, choose items to promote on your stream, and users can make purchases without missing a moment of your stream.
Tipping
Add a tipping option to your stream to uncap your earning potential and maximize revenue on virtual events. Tipping lets your fans show their appreciation with whatever dollar amounts feel right.
This is a great way to allow fans of different means to support your content on a sliding scale. It can be used alone or in conjunction with other monetization methods.
Ticket and Merch Bundles
Easily bundle tickets and merch for your super fans. Offer branded merch or additional virtual experiences as an upsell during ticket sales to make more money.
Our Shopify integration also powers ticket and merch bundles.
Interactivity with Maestro and Mux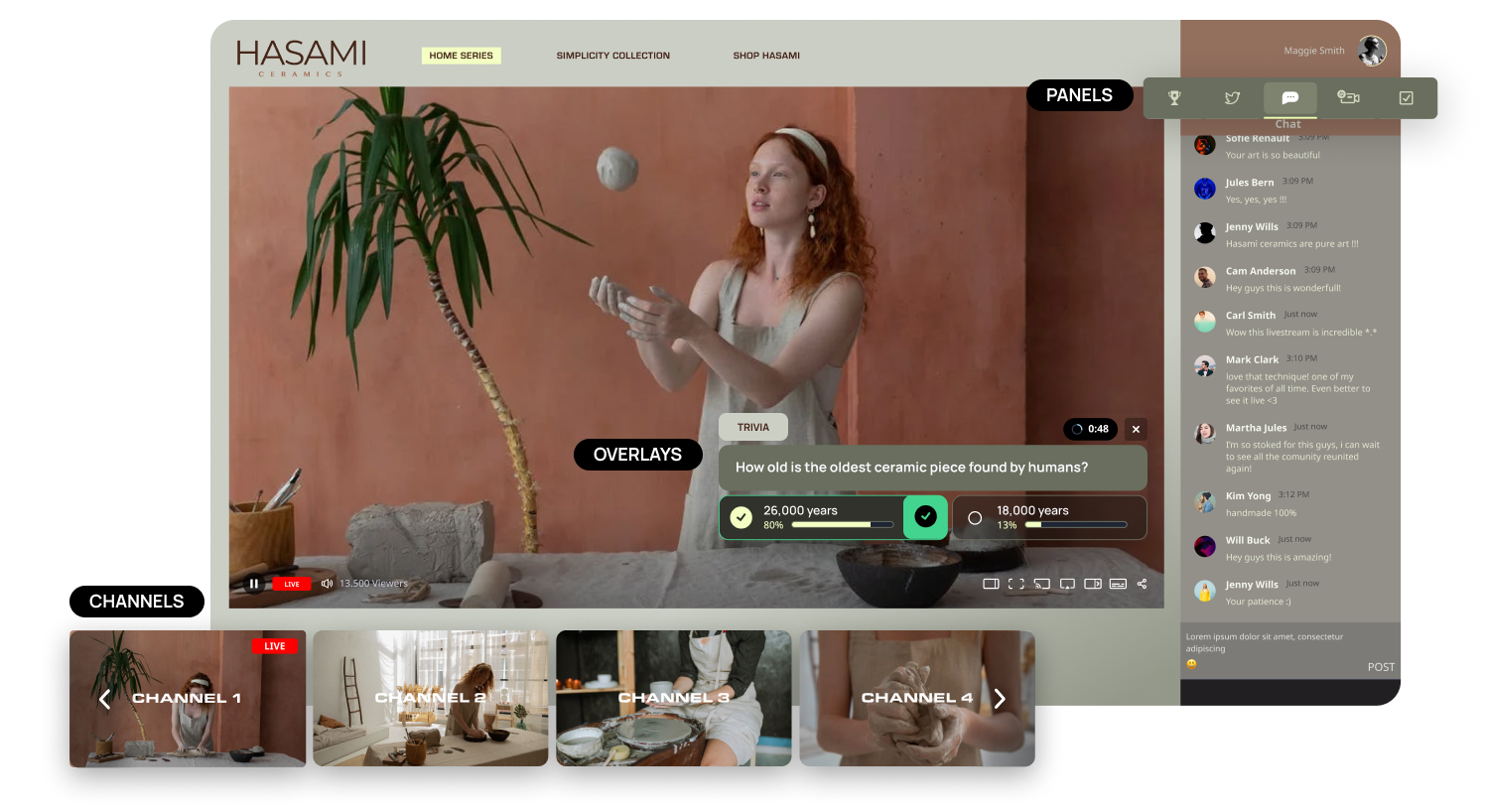 Adding interactivity to your streams is a great way to keep viewers engaged. The more time users spend watching your content, the more opportunities you have to make money.
Maestro offers a wide collection of customizable interactivity tools that can be deployed as clickable overlays or panels alongside the stream. Maestro's native live chat is the most commonly used feature to promote engagement. Some other fan favorites include polls, trivia, and gamification.
Studio, our in-browser streaming tool, takes interactivity to the next level with collaborative live streaming. Users can easily invite viewers on stage for AMAs, personal interactions, and more.
Start Streaming with Maestro x Mux
Since Mux is the default streaming provider for Maestro, all users automatically have access to Mux as a streaming provider. That means this partnership is accessible for free with Maestro's Start plan.
Are you ready to make more money by adding interactivity to your streams? Sign up for Maestro today to start streaming in no time.
Join our Discord server for more helpful tips and tricks!
Share