Lucas Live Media: A Streaming Success Story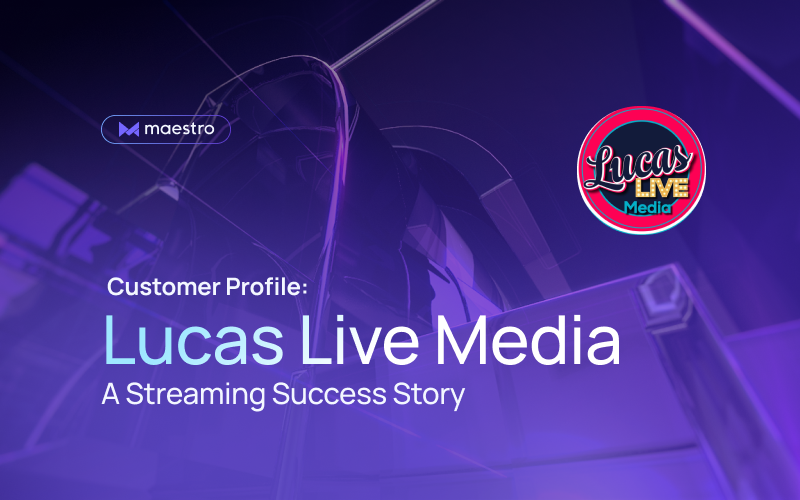 Lucas Live Media is a media network that started as a feel-good show in April 2020. Founder, Lucas Tindell, was left looking for a way to be productive and navigate the grief that came with losing his mother, Vivian Tindell, to breast cancer.
Through this process, he recognized that his mother was a wonderful person, but not enough people got to experience her greatness. He decided that the best way for the world to know her was to see her through him, and within a week, he decided to start live streaming.
Lucas had a career in leadership and personal/professional development, but video streaming was totally new to him. He started with a lamp and background art from Goodwill and a basic mic. Within a month or two, people were so supportive of the show that they started purchasing equipment for him. The show didn't even have a name in the beginning.
With such positive reception right off the bat, Lucas was inspired to keep streaming. He started going live almost every day and put out 100 episodes in six months. He also started multistreaming on Facebook, LinkedIn, and YouTube, and Twitter to expand his reach.
Since the beginning of the Lucas Live Show, Lucas has interviewed tons of interesting people. These interviews aim to provide education, motivation, and liberation through love, light, and laughter. He likes to amplify the voices of people with interesting stories about life or business, those who want to make a difference, and those who have overcome various obstacles.
As his streaming efforts continued to grow, Lucas decided to build Lucas Live Media as a media company to one day be monetized. Within this organization, Lucas has tested a variety of different types of video shows, including a relationship advice show, a morning show, Fishtank (a Sharktank-inspired series for small business owners), local live sports, and more.
Why Did Lucas Live Media Choose Maestro?
Before finding Maestro, Lucas had dreamed of a similar solution. A little bit of research left him pleased to know that his dream solution already existed in Maestro.
He really wanted a tool that enabled viewers to shop without leaving the show so he could monetize with creative sponsorship activations. Gamification was also a must.
Upon testing Maestro, Lucas found it to be the most robust solution. It allowed him to seamlessly integrate with the third-party software that he was already using. He also liked that he could engage his audience with various interactivity tools, such as cool polls with pictures and live results.
Lucas Live Media's Favorite Maestro Features
After using Maestro for over two years, Lucas has become very familiar with the platform. In that time, he's come to appreciate that with Maestro, everything stays in the same hub while the show is going on. He loves that your viewers can stay in your ecosystem and continue to watch while they shop, interact, and more.
Lucas also really appreciates Maestro's video website builder. He says, "As a podcaster/live streamer, content is king, and to have such an intuitive interactive website is a game changer. It's not like other websites. It's not like WordPress."
What's Next for Lucas Live Media?
Lucas Live Media is on the brink of a major expansion. The network is set to produce a handful of new shows with both Canton and Cleveland locals as well as national public figures.
Some of the hosts will include Chef Stephan C. Baity (who has been featured on the Food Network), Officer LeMar Sharpe, Holistic and Mental Health Practitioner Courtney Chester, and even Lucas's wife Corine and daughter Savannah will be featured in a Mommy and Me podcast. There will also be a live shopping show hosted by Lucas himself and much more.
Lucas plans to use the experience he's gained with his own shows to produce, record, and distribute these new ones. All of them will include both video and audio.
We're eager to see how Lucas Live Media uses Maestro to support them through the next phase of their journey!
Share