Livestream Review: Features, Pros and Cons, Pricing, and More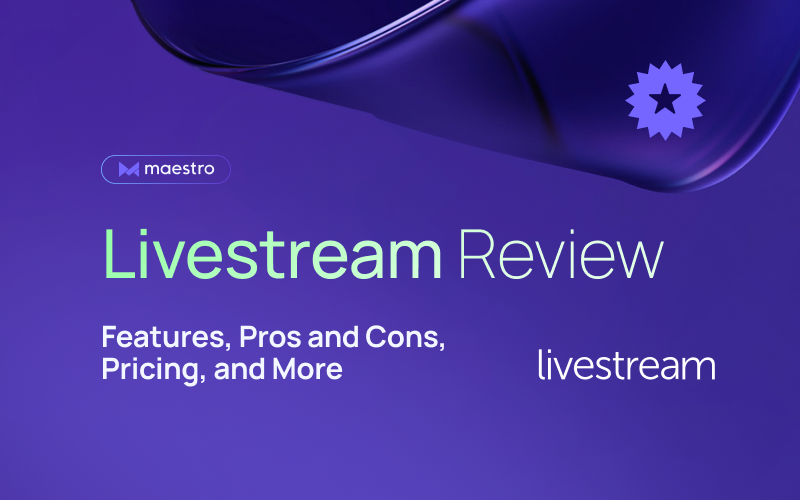 Vimeo is one of the most popular streaming platforms on the market, so it's no surprise that Livestream is one of the go-to solutions for enterprise video hosting.
If you're considering using Livestream as your streaming platform, it's important to recognize that its features are great for many users, but it's not a one-size-fits-all solution. Before you commit, get to know the ins and outs of Livestream to ensure you're choosing the best solution possible.
In this Livestream review, we will cover features, pricing, best use cases, and more. We will take a close look at the pros and cons of using Livestream before we compare this solution to another powerful online video platform.
Table of Contents
What is Livestream?
Livestream is the premium video hosting solution from Vimeo. Livestream was previously an independent solution before it was acquired by Vimeo in 2017. The purpose of this acquisition was to transform Vimeo from a consumer-grade streaming site, like YouTube, to a more powerful enterprise solution.
Although the Livestream technology is owned by Vimeo, the premium Livestream offerings are still under one umbrella, but they are sold under the Vimeo name. Vimeo has three pricing plans that fall under the "Livestream" umbrella. These include Vimeo OTT, Vimeo Enterprise, and Vimeo Advanced.
Livestream's solutions are suitable for OTT streaming, VOD, live streaming, video monetization, and more. The platform also offers support for video production.
Livestream's Key Features
Live Streaming: You can stream live events directly to your audience, with options for embedding the player on your website or sharing on social media
Customizable Video Channels: You can create custom channels for your videos, with options for organizing content by theme, topic, or audience for on-demand viewing
Customizable Player: Customize your video player to match your brand's look and feel, add your own logo and colors, and more
Video Review Tools: Share videos with others for review and collaborate with team members to give feedback and make changes
Advanced Analytics: Vimeo offers detailed analytics on your videos, including views, engagement, and audience demographics
Privacy and Security: Set different privacy levels for your videos, including public, private, and password-protected
Monetization:

Monetize

your videos (with

subscription

, pay-per-view, and apps)
Livestream Best Use Cases
Livestream is best suited for professional streaming use cases. Some examples include virtual event streaming and OTT streaming service hosting.
Livestream is also a viable option for video production, with support ranging from a digital video production studio to done-for-you services. This is valuable for companies that need help producing professional virtual events.
Looking for a comprehensive streaming solution that offers interactivity, monetization, and more? Try Maestro for free.
Livestream Pricing
Livestream has different pricing plans for each of the solutions they offer. Pricing is broken down as follows:
Vimeo Advanced: $65 per seat per month
Vimeo Enterprise: Custom pricing
Vimeo OTT

Starter: $1 per subscriber per month -or- 10% of one-time purchase or rental revenue (plus taxes and processing fees)
Enterprise: Custom pricing
Pros and Cons of Livestream
Pros

Cons

Powerful solutions for high-end streaming
Feature-rich streaming platform
Capable of large-scale streaming
Users report that the product is easy to setup

Tons of complaints about Vimeo's support and billing departments
Complicated pricing model
Users report that excessive CPU usage causes crashes with high-volume use
Regular product updates cause streaming delays
Some complaints about latency
Some complaints about browser compatibility
Livestream vs. Maestro
Although Livestream is a powerful solution for video hosting, it is not the only streaming solution on the market. It's important to see how this solution compares to other streaming tools.
With that said, let's take a moment to compare Livestream to Maestro, a powerful online video platform that is known for its flexible monetization and interactivity tools.
| | | |
| --- | --- | --- |
| | Maestro | Livestream |
| Pricing | Straightforward pricing plans | Complex pricing (that can get confusing) |
| Functionality | Live streaming, video hosting, flexible video monetization, video website building, community management, data and analytics, and more | Video hosting, live streaming, OTT streaming, video monetization, and video production |
| Revenue Sharing | Users keep up to 100% of the revenue earned on tickets and subscriptions | Vimeos takes 10% of revenue plus taxes and processing fees |
| Strengths | End-to-end video hosting (including monetization) | Comprehensive video hosting (live and on-demand) |
| Monetization Tools | Ticketing, subscriptions, tipping, ticket bundles, and live commerce | Pay-per-view, subscriptions, and apps |
| Interactivity Tools | Clickable overlays, chat, customizable panels, polls CTAs, and more | Graphic overlays, polls, chat, and Q&As |
| Video Website Building | Easily customizable drag-and-drop video website builder | Customizable video player and channels |
Host and Monetize on Maestro
We've discussed the power of Livestream, but as with any technology, it may have some limitations. If simple pricing and reliable support are important to you, we recommend giving Maestro a try.
You can try Maestro risk-free for two weeks to see how our platform could work for you!
Join our Discord server to learn more tips and tricks for streaming on Maestro.
Share