How to Sell Merch Online: The Ultimate Guide
Musicians, sports franchises, content creators, and other companies sell merch to give their fans a way to represent their brands. Selling merch allows brands to create a revenue stream, which is definitely a plus.
In this post, we will discuss the ins and outs of how to sell merch online. We will review the basics before we explore live commerce as a merch-sellingace strategy. From there, we will take some time to compare some different sites for live selling merch.
Table of Contents
Selling Merch Online: The Basics
In the past couple of years, many events that would normally be hosted in-person have been shifted to a virtual or hybrid format.
Since many performers, sports teams, and other public figures have used their events to sell merch to their fans, they've turned to e-commerce to maintain this stream of income.
You can sell merch online for concerts, art shows, and other branded events. Some popular branded merchandise includes shirts, hoodies, sweatpants, hats, bags, and other items that represent the essence of the brand.
Why Sell Merch Online?
Giving your fans cool gear to rep your brand is just the tip of the iceberg when it comes to the perks of selling merch online. It provides an extension of the income stream from selling merch at your shows and events.
When you sell online, it gives your supporters to buy your merch even if they are unable to attend your events in person. This helps you make more money without much more effort.
Plus, when you sell merch online, you can offer a wider collection of items. When you sell online, you don't have to worry about carrying all of your products from venue to venue like you would when you're touring.
How to Sell Merch Online
Selling merch is much like selling any other product online. You have to start by designing and producing your merch. Once you've created an inventory of products, it is time to start selling.
There are several ways to sell merch online. Some of the most popular ways to sell merch online include:
A storefront on your website
An e-commerce marketplace
Social selling
Each of these methods has unique benefits and use cases, so it is important to create a strategy with one or more of these methods that makes sense for your brand.
Once you determine which sales channels you'll use, it's time to promote your products. When you use a combination of the strategies we mentioned above, cross-promotion will come naturally.
Use Live Commerce for Selling Merch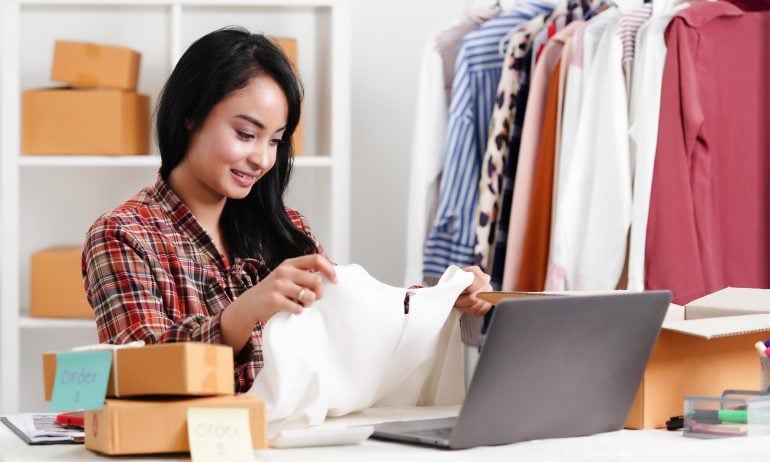 Live commerce, which is also called live selling, is another method for selling merch online that involves promoting items in a live stream. This sales method is engaging because it mimics real-life sales.
This is a modern take on the sales model used by QVC. The main difference is that, in many cases, live selling enables viewers to shop and check out directly in-stream. This is a great improvement from the previous process that required buyers to order by phone or by snail mail.
What's nice about live commerce technology is that it enables brands and creators to sell their merch during their online events.
There are several ways to sell merch with live commerce, including free and premium streaming tools. Each comes with its own benefits, but creators and brands who are looking for a more professional setup are wise to invest in a premium solution.
YouTube Merch Shelf vs. Maestro
To give you a better idea of the difference between selling merch on a free streaming platform versus a premium one, let's take some time to compare YouTube Merch Shelf and Maestro.
YouTube Merch Shelf is a tool from YouTube that allows creators to feature up to 30 different products. The shopping interface is placed under the video player and the video's description. Plus, YouTube has restrictions on who is allowed to live stream, so this feature isn't accessible to everybody.
Maestro, on the other hand, is a premium video streaming platform with live commerce support. Thanks to Maestro's Shopify integration, the shopping interface can be added directly into or beside the video player. Live streaming is the star of the show at Maestro, so it is accessible to all users.
Branding is another huge difference between the two. All streams on YouTube have the YouTube branding, but since Maestro is a white-label video platform, creators can implement their own branding to make their streaming experiences look and feel like their brands.
YouTube is a suitable option for creators who are working with limited budgets or are relatively new to the game, but those who need a more advanced setup will do better with premium live selling tools.
Sell Merch on Maestro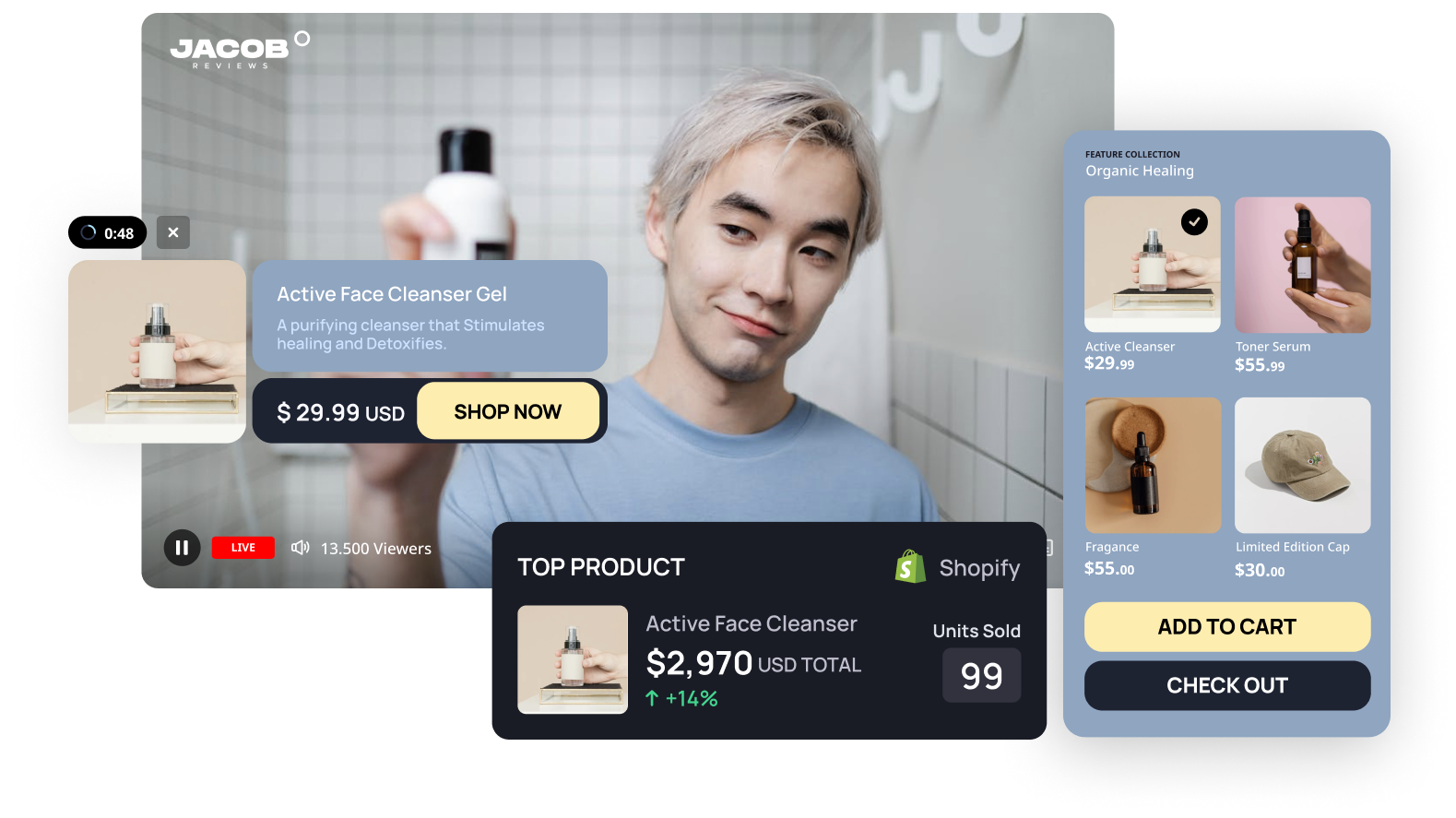 When you pair Maestro's Shopify integration with the platforms' interactive overlays and panels, it's easy to create a seamless shopping experience for your fans.
Sign up for Maestro to start selling merch via live commerce in no time at all.
Join our Discord server to learn more tips and tricks for streaming on Maestro.
Share