9 Tips for Creating a Video Ad Without Spending a Fortune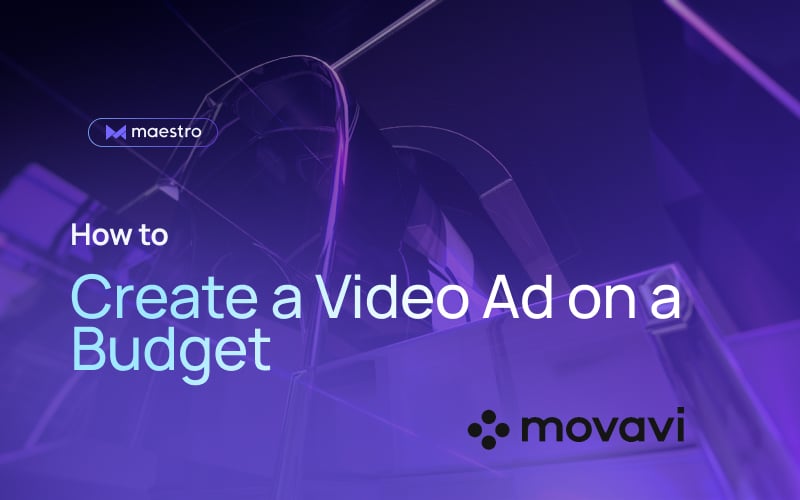 In today's digital world, standing out from the competition has become increasingly challenging. Businesses with large marketing budgets have the ability to pump out professional content with ease, leaving many start-ups and small businesses scrambling to catch up.
There is a misconception among marketers that creating a quality video ad requires a massive video budget. However, this is not the case. With a little bit of time and creativity, it's possible to create stellar video ads with a tighter budget.
In this article, we will provide nine tips for creating a video ad on a budget. If you want to save money but still get the most out of your ads, this guide is for you.
This article is a guest post from the video editing experts at Movavi.
1. Define Your Goals and Target Audience
The key to any successful ad is resonating with viewers. Thus, you must clearly understand your goals and target audience before creating marketing videos.
Identify the message you want to convey and the action you want viewers to take. You must understand your audience's demographics, preferences, and pain points. This information will help tailor your video ad to resonate with the audience.
2. Plan Your Content
Never create a video ad on the fly. It is best to script your video ads so every moment is intentional.

Start off by defining the ad format. The simplest yet most effective option is "Problem – Solution – Customer Benefit." From there, identify triggers that grab the viewer's attention based on the audience's problems.
Finally, always include a strong call to action (CTA) at the end of your video. Viewers prefer to hear a call to action, which is why CTAs are used everywhere. It could be a click-through to your streaming service, a subscription to your YouTube channel, or a purchase from your shop. The key is to make the CTA clearly expressed and easy to understand.
3. Choose the Right Video Editing Software
Some video editing programs cost up to $300 per month, and for many businesses, this is a significant expense. However, with a little digging, you can find powerful tools that won't break the bank. Free software is a go-to solution, especially for marketing videos on a budget.
There are many free video editing software with no watermark that provide the same features as professional programs. Most include AI, which reduces editing time and costs.
4. Concentrate on Visual Storytelling
The cornerstone of successful video ads is visuals. They capture the attention of viewers. You can achieve that by using animations and dynamic transitions.
Furthermore, remember that every frame of the video has a message for the viewer. If some fragment does not stand for a reason, do not hesitate to delete it. As a result, it will boost your video dynamics and make it catchier.
5. The Shorter, The Better
You have likely noticed that most promotional videos last no longer than two to three minutes max. In this short-form video era, many are no more than 30 seconds.
This is due to the constant distractions in today's world. Videos that go beyond a few minutes struggle to maintain the viewer's attention. Even if the video quality is exceptional, distractions are the deciding factor.
Thus, we recommend you focus on a two to three-minute duration. The essential part of your video is the CTA, which is often at the end. In order for people to watch the video to the end, you need to make it concise.
6. Leverage Stock Footage and Images
Numerous platforms offer high-quality, copyright-free visuals that enhance your video's impact. With the help of stock photos and footage, you can achieve that eye-catching image. This is also a must-have tool for marketing videos on a budget.
On the other hand, there are services that provide paid stock images and footage. You can save money with them too. For example, if you need to shoot a flight over a city, it will be cheaper to buy ready-made footage.
7. Focus on Mobile Viewing
As of May 2023, almost 68% of users consume content through smartphones. That is why we recommend focusing on dynamic content that is accessible on mobile devices. Besides, optimizing videos for small smartphone screens will be much cheaper than optimizing them for large TV and PC screens.
As a result, you aim at the biggest target audience and achieve affordable video production at the same time.
8. Create Captions and Subtitles
You may be surprised, but many people watch videos with no sound. Moreover, some viewers are much more receptive to audio information if it is repeated with subtitles. That's why you must caption your advert's most important parts.
Most often, captions are used for triggers that will influence viewers' decisions. Captions appear in bold and bright text in the middle of the screen so the viewer will definitely notice them. At the bottom of the screen are subtitles that will accompany the audio information throughout the video.
By the way, most video editing programs have a function to write subtitles automatically using AI. This will save your video budget and time, as well.
9. Test First, Spend After
Before you start, run a test campaign with a cost of no more than 5-10% of your entire video budget. The goal is to get statistics from the test campaign on the following metrics:
Views
Engagement Rates (this one is especially useful if you promote your brand on YouTube)
Click-through rates (CTR)
Once you see how the trial campaign goes, you can decide whether using all your budget is a good idea or if it is better to change the video ad. This method will definitely help you save money and lower risks.
Final Thoughts
Video ads don't have to eat up your entire marketing budget. Each step we have discussed provides a way to save money without sacrificing video quality or success rates.
In video marketing, standing out does not depend only on a big budget. It is about being smart, creative, and resourceful. As you adopt our ideas, remember that creating a strong video ad needs careful planning and knowing your audience.Are you ready to create a powerful video ad?
About the Author
Daria Masson is a content manager at the Movavi team from Cyprus. With an extensive background in blogging and internet marketing, Daria's primary areas of expertise encompass audience engagement strategies and the cultivation of innovative, creative content.
Share