4 Ways Enterprises Can Monetize Video with Maestro & Brightcove

Maestro has recently become a partner on the Brightcove Marketplace, which means users can now deploy Maestro's flexible monetization support alongside Brightcove's products and services for professional-grade for streaming.
In this article, we will discuss what the partnership between Maestro and Brightcove looks like and how it is beneficial to enterprise streamers. We will take a close look at the four ways that brands can make money with video via Brightcove's Maestro integration.
Table of Contents
Brightcove x Maestro: The Basics
Maestro is now available as a partner in the Brightcove Marketplace. The Maestro integration provides Brightcove users complete access to Maestro's features. This collaboration allows users to monetize their video content in whatever way works best with their other online video strategies.
If you are not familiar with these platforms, Maestro is an interactive video platform that empowers monetized creativity for brands and creators. Brightcove is the world's most reliable, scalable, and secure video technology solution that is used to build a greater connection between companies and their audiences.
The combination of these two platforms' resources creates a white-label video hosting ecosystem for enterprises that want to make more money while improving the interactivity of their streams.
4 Ways to Make Money on Video with Brightcove's Maestro Integration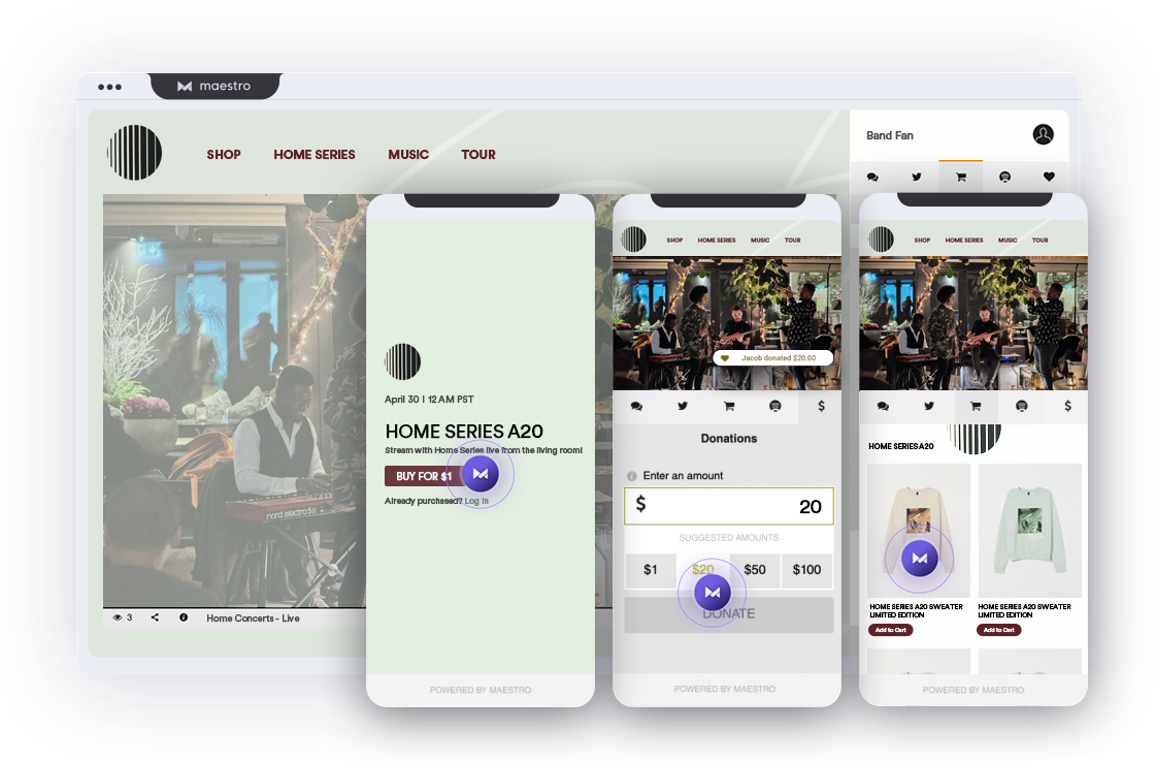 Here at Maestro, we aim to help brands and creators make more money with different techniques and strategies. This includes powerful money-making tools, such as subscriptions, ticketing, live commerce, and tipping.
Let's take a closer look at how Brightcove users can implement each of these money-making methods to generate more revenue.
1. Ticketing (Pay-Per-View)
Pay-per-view (PPV) is a traditional video monetization method that has carried over into the digital age. As the name suggests, viewers pay for each piece of content that they want to watch. Pay-per-view can be used for both live and on-demand content.
Maestro offers ticketing, a PPV monetization method that enables users to sell tickets to streaming events. Once a ticket gate is created, users can enable or disenable the paywall at the touch of a button.
Ticketing is particularly valuable for charging admission to exclusive virtual or hybrid events. Creators keep up to 100% of revenue generated from ticket sales.
2. Subscriptions
Using subscriptions is another traditional video monetization method that is quite effective for generating revenue in the digital video streaming landscape. With subscriptions, brands and creators can charge a recurring subscription fee for access to their live streams or a library of content.
Subscriptions are great for creating a revenue stream that is recurring and predictable. Like ticketing, creators keep up to 100% of revenue generated from subscription sales on Maestro.
3. Live Commerce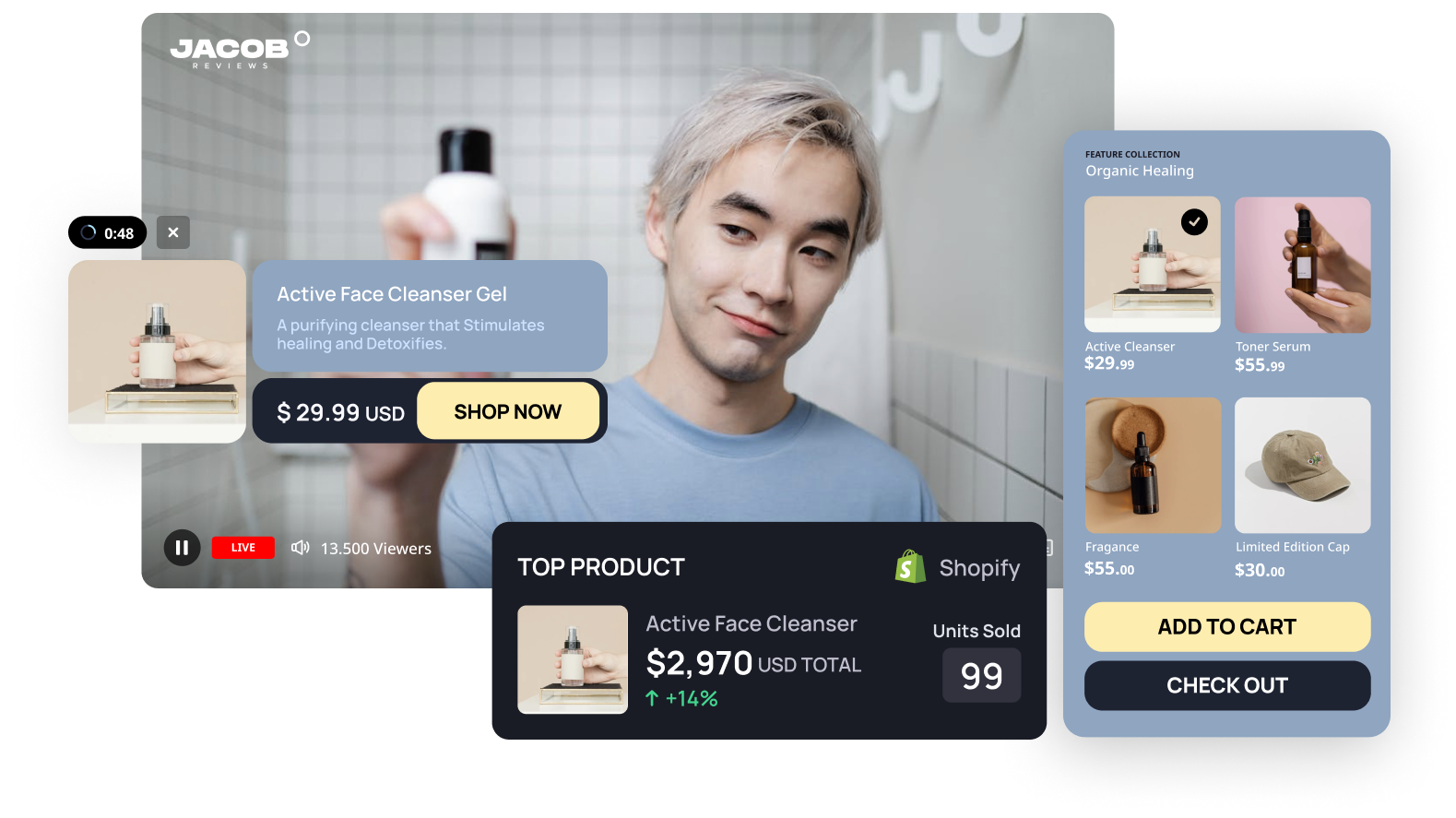 Live commerce, which is also known as live selling, is a video monetization method that involves selling products during a stream. This e-commerce strategy is becoming more popular amongst retailers since live streaming enables them to connect with buyers in a way that is more engaging than static e-commerce listings.
Maestro's live commerce tools are powered by Shopify. This integration makes it possible for retailers to connect their Shopify stores and sell items directly in the stream.
Since the product listings are embedded into the stream, viewers can complete the checkout process without leaving the stream.
4. Tipping
Tipping is a unique video monetization that allows viewers to give creators any amount of money that they wish. This gives superfans a way to pay their favorite creators more money while. It simultaneously makes the streams accessible to loyal fans who want to support but are unable to pay as much for access.
This monetization tool is also valuable for fundraisers for charity streams since open-ended donations allow generous donors to share their support.
Top Use Cases of the Brightcove x Maestro Partnership
Any Brightcove users who want to make more money or improve the interactivity of their streams can use Brightcove's Maestro integration.
However, some specific use cases of Brigthcove's Maestro integration include:
Building branded video websites with ease
Incorporating chat and audience participation in corporate webinars
Selling merch at an online

music festival

Creating

VOD

streaming platforms (monetized with subscriptions or PPV)
Showcasing work on an easy-to-navigate video site
How will you use the integration?
Get Maestro for Brightcove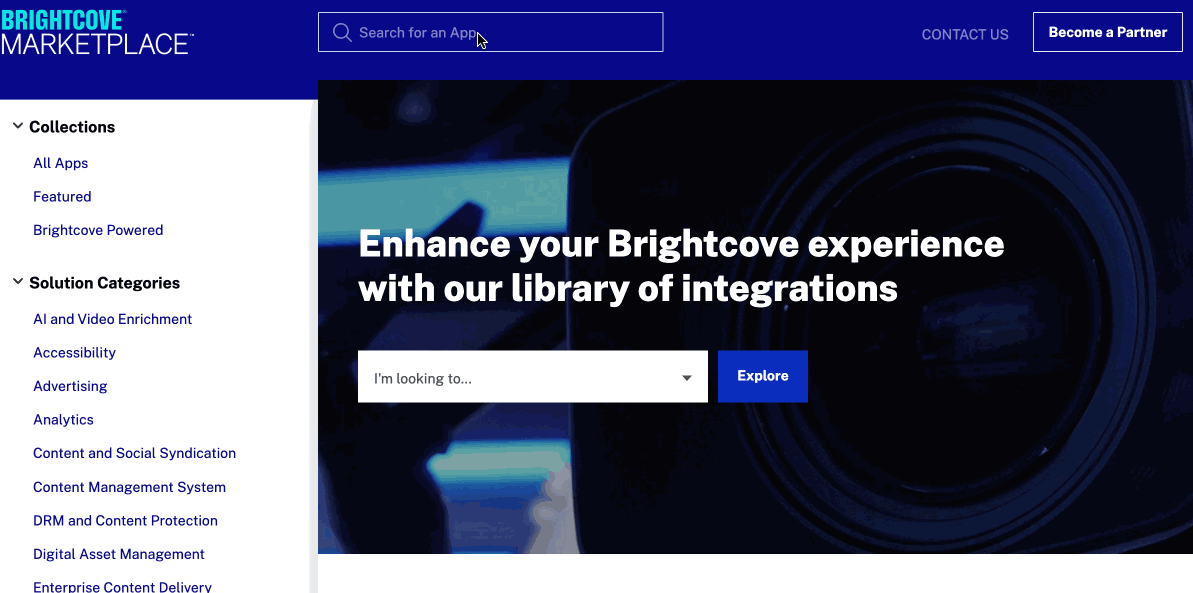 It's time to make more money with video! Head over to the Brightcove Marketplace and search for "Maestro." Click "Connect Now" to configure the integration in your Brightcove account.
To learn more about this integration and streaming with Maestro, contact us and a member of our Customer Success team will answer any questions that you may have.
Share