The 5 Best 4k Cameras for Live Streaming in 2023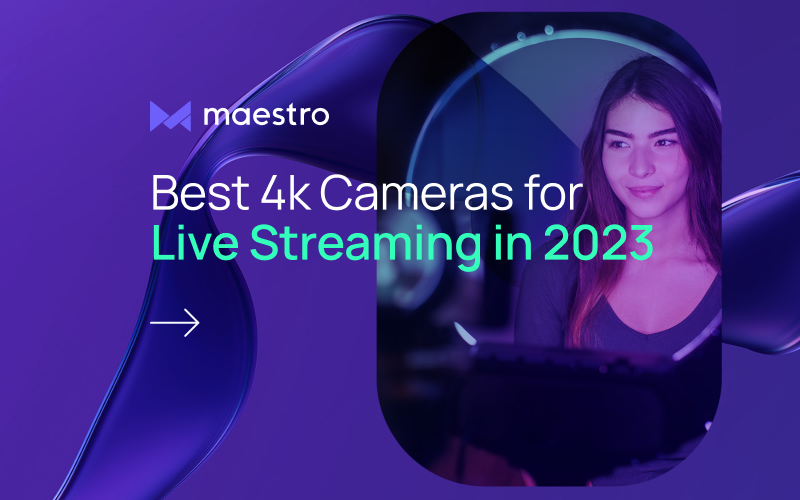 Over the past few years, people have grown accustomed to interacting with each other in the virtual world through live streaming.
Millions of people have adjusted their habits to make video calls and live streams a constant in their lives for everything from business meetings to virtual concerts to online classes. There's more demand than ever for quality live streams and virtual events.
During this time, we've also seen streaming technology evolve to support 4k streaming. In order to keep up with the industry, it's important to choose a camera that is capable of 4k live streaming.
To help you out, we've identified five of the top 4k cameras for live streaming in 2023. We've rounded up the top 4k cameras that fall into different categories, including professional, digital, mirrorless, mirrorless, action, and webcam.
Choosing the Best 4k Cameras for Live Streaming
A 4k camera is capable of capturing images and video at a 4k or higher resolution, which is significantly higher quality than the standard 1080p from previous generations of cameras.
The good news is that there's an ever-increasing range of choices for cameras that support live streaming in 4k, including a range of pricing tiers and camera types like webcams, DSLRs, mirrorless, and cine-style cameras.
With that said, there are several features and components besides resolution that we need to touch on when picking a quality camera for live streaming. These include:
Autofocus: You need to be able to keep your subjects in sharp focus throughout a live stream. Because it's all happening live under dynamic conditions, strong autofocus is essential to maintain a quality presentation.
Professional audio: Audio is just as important as video when you're live streaming. Quality sound allows viewers to clearly understand your content, meaning your camera should have an excellent built-in microphone or support for an external one (or, ideally, both).
Quality zoom: A versatile and powerful zoom feature can liven up your stream by allowing you more creative control. For example, you can adjust the frame, capture wide-angle views, or zoom in for close-ups while maintaining a high-quality image.
Easy-to-use controls: There's more pressure to get things right during a live stream than with a pre-recorded production, which means you want to be able to adjust settings on the fly. That's why you need controls and a user interface that you can work with easily.
Clean outputs: A professional stream requires clean outputs direct from your camera to your streaming device. The only thing your audience should be seeing is the content itself, not overlays or other autofocus points.
Keep these important features in mind as we talk through several of the best 4k cameras for live streaming.
1. Professional: Canon XF605
We'll start off with this new and elite professional camera from Canon: the XF605 UHD 4k HDR Pro Camcorder.
The Canon XF605 is a compact, ENG-style camcorder that delivers high-resolution video for a range of situations, including ENG, sports events, live entertainment, and broadcast-style footage.
Powered by the DIGIC DV 7 engine, this camera can handle 4k, 10-bit 4:2:2 video and options for dual recording, relay recording, and simultaneous recording.
This camera costs $4,699.
Key Features
UHD 4k up to 60 fps, and 1080p up to 120 fps
Dual-Pixel CMOS Autofocus
15x Optical/30x Digital Zoom
Four XLR inputs
Pros
High-quality 4k UHD footage at 60P and slow-motion Full HD at 120P
15x optical zoom with Optical Image Stabilization
Advanced autofocus system
Ability to live stream directly through Ethernet or Wi-Fi
Dual Pixel CMOS AF offers smooth and accurate focus
Cons
The high-end price point may not be affordable for hobbyists or entry-level users
Bigger and heavier than DSLR/mirrorless cameras
No raw video recording
Summary
It's certainly not cheap, but the Canon XF605 is about as advanced as you can get in virtually every one of the key features you need in a 4k camera for live streaming.
2. Digital Film: Blackmagic Pocket Cinema Camera 6k Pro

The Blackmagic Pocket Cinema Camera 6k Pro is a high-performer with a wide range of advanced features in a compact form factor.
It comes with high-resolution recording of up to 50 fps at 6k video, an active Canon EF mount with compatibility and support for a range of EF/EF-S mount lenses, and professional audio support with two mini XLR inputs with phantom +48V power, a 3.5mm stereo input, a mono speaker, a headphone output, and a built-in stereo mic system.
And as always, the Blackmagic comes with a studio license for DaVinci Resolve, which supports Blackmagic raw capture. This camera is priced at $2,535.
Key Features
Record 6k up to 50fps
Super35 HDR Sensor
13-stop dynamic range, autofocus support
Dual XLR inputs
Pros
6k high-resolution video
Super 35 HDR image sensor
Multiple storage options with CFast and SD UHS-II cards
Features a built-in motorized ND filter
High dynamic range
Cons
No continuous autofocus, which can be limiting for certain applications
Requires fast and high-capacity memory cards for 6k
Battery life could be better
Summary
Paired with an optional ATEM mini switcher for live streaming, the Blackmagic Pocket Cinema 6k Pro is an ideal compact, feature-rich digital camera for both content creators and professional filmmakers.
3. Mirrorless: Panasonic Lumix S5 IIX
The recently released Panasonic Lumix S5 IIX is a mirrorless camera that's designed for professional content creators, with powerful still photography, high-end video, and enhanced live streaming functionality compared to its standard S5 II predecessor.
The camera has a 24.2MP sensor and can record 6k video for up to 30 minutes, along with unlimited 4k video capture. Its live streaming capabilities include Wireless IP streaming, USB tethering to smartphones, and Wired IP streaming.
The price is $2,197.99.
Key Features
6k 30p video recording
24.2MP full-frame CMOS sensor
5-Axis Sensor-Shift image stabilization
ISO 100-51200 and up to 30fps shooting
Pros
Compact and lightweight for a full-frame camera
High-quality video and image performance
Excellent in-body image stabilization
Weather-sealed construction
Cons
Contrast-detection autofocus might not be as fast as phase detection in some situations
The higher resolution mode requires a tripod and a non-moving subject
Summary
A cutting-edge mirrorless camera packed with professional features for content creators. Make sure you go with the S5 IIX instead of the standard S5 II to take advantage of those enhanced video options.
4. Action: GoPro Hero11 Black
Not every camera is equipped to stream motion and action, but the GoPro brand is all about capturing video for outdoor adventures. As the latest in a long line of quality cameras, the GoPro Hero 11 Black is always ready for action.
This is clearly a specific use case, but if you want to film your exploits on the go, you may appreciate a camera that's waterproof up to 33 feet, with strong battery performance in cold weather and 8x slow motion video.
You may also appreciate a camera that automatically uploads footage to the cloud when connected to Wi-Fi, plus sharp and smooth image stabilization with AutoBoost.
The price for this camera is a modest $399.
Key Features
5.3K60/2.7K240 video
27MP camera
HyperSmooth 5.0 image stabilization
8x slow-motion video
Pros
Compact and rugged, excellent for action shots
Upgraded sensor captures 5.3K video and 27MP photos
Waterproof up to 33 feet without a housing
Improved image stabilization with HyperSmooth 5.0
Cons
Battery life can be short in certain shooting modes
Although improved, low-light performance may still be challenging
Summary
The GoPro Hero 11 Black is perfect for capturing footage of high-octane outdoor adventures, though it works fine for more conventional situations as well. Any GoPro that's version 7 or newer (along with a GoPro subscription) will provide built-in live stream functionality.
5. Webcam: Logitech BRIO Ultra HD Pro Webcam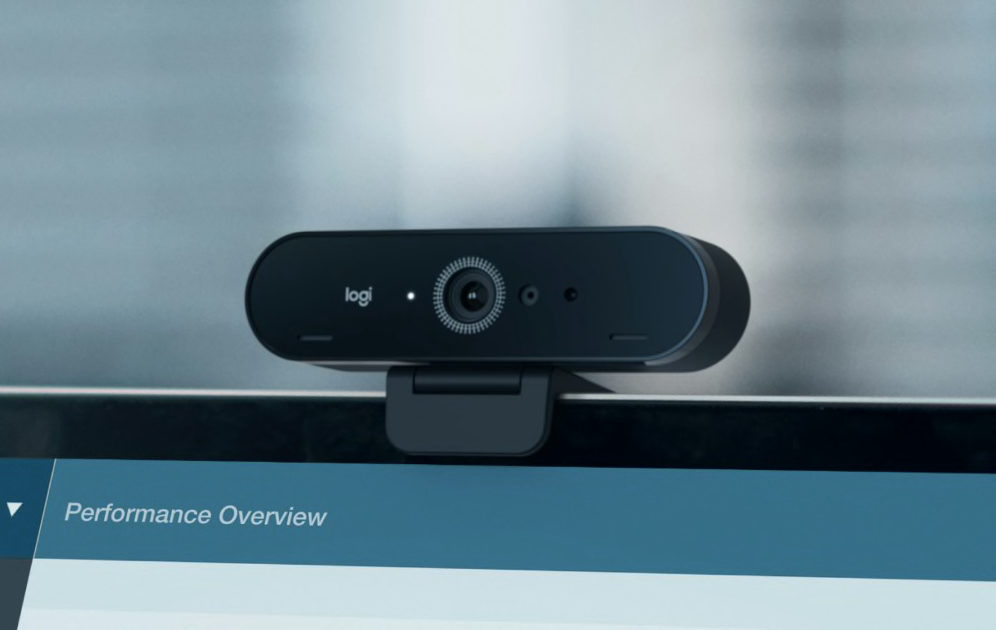 The BRIO Ultra HD Pro webcam from Logitech is a premium webcam intended for work-from-home setups and virtual business meetings. It delivers resolutions up to 4k Ultra HD and frame rates up to 90 fps.
This quality webcam comes with a 5x digital zoom and dual omnidirectional microphones with noise-cancellation technology to ensure quality audio and video. It's compatible with Windows, Mac, and Chrome systems. Note that you'll need USB 3.0 for a 4k video.
The price for this camera is very affordable at $199.
Key Features
4k Ultra HD at 30 fps, Full HD 1080p at 30 or 60fps, and HD 720p at 30, 60, or 90 fps
RightLight 3 and HDR technology
5x digital zoom
Plug-and-play connectivity
Pros
4k Ultra HD video and high frame rates
RightLight3 with HDR for different lighting situations
Plug-and-play USB connectivity
Dual omnidirectional microphones with noise cancellation
Cons
Requires a USB 3.0 connection for 4k video
More expensive than many other webcams
Limited mounting options compared to traditional cameras
Summary
The BRIO Ultra HD Pro webcam offers a perfect blend of high-end video quality and user-friendly functionality. Whether you're planning a high-end live production or simple video conferencing, the BRIO is a valuable addition to your streaming setup.
Bonus: Your Smartphone
Before investing in high-priced camera gear, consider the phone that's in your pocket right now. Many modern smartphones have powerful video capture capabilities.
Some of the most popular smartphones with 4k video capabilities include:
Phone 14 Pro Max: $1,099
Huawei P40 Pro: $1,199
Samsung Galaxy S22 Ultra: $1,199
OnePlus 10 Pro: $999
Google Pixel 7 Pro: $899
Technically, some of these more budget-friendly devices may need to scale the image up to a UHD or 4k resolution, but the quality is close enough that it might be sufficient for your production. It's also handy to have a streaming-ready phone on hand in case you want to go live on the fly and don't happen to have your full array of professional gear on hand.
The good news is any camera on this list will allow you to produce high-quality live streams, virtual events, and real-time broadcasts to your audience.
To learn more about how to manage virtual events, check out our dedicated guide to virtual event production.
Live Stream on Maestro

In the end, no matter which camera you choose, you'll need an online platform to broadcast your live stream. With that in mind, Maestro may be the solution for you. Our streaming platform supports both live and on-demand video streaming, so you can distribute your content however you like.
What makes Maestro unique is that we offer a variety of tools to make your live streams engaging and interactive. We also offer a slew of video monetization tools so you can generate revenue from your content.
Are you ready to start streaming on Maestro? Sign up today to start for free.
Join our Discord server for more helpful tips and tricks!
Share